So, we're home. I'm jet-lagged, of course, and so are both Lily and Lolo. Ryan, bless his heart, is sleeping soundly in his bed. He might even sleep in. He did it the way you're supposed to: Stay up until time to go to bed. I and the girls on the other hand, took naps. Well, technically, the girls fell asleep on the last plane and didn't awaken until hours after we had gotten back. I got home, unpacked a few suitcases, grabbed a book from my shelf to make room for the 80+ books I brought back, lay down on my bed and three pages in, fell into coma sleep. You know, the kind where you're so fatigued you don't dream and when you wake you feel like you have slept 8 hours but really it's only been an hour and a half. It's a mistake. And I know/knew it. But I didn't sleep one wink on the international flight and only dozed off during the last fifteen minutes of the Munich-Lyon flight, so, I don't think it could be helped.
Stepping outside the airport was wonderful. It was 1:30 in the afternoon and only 76 degrees F with a breeeeeeeze!!! After 95+ temps in the States (and ridiculous humidity), I was ready for a break from what some of my Facebook friends have called the "soupy weather." Climbing into the minivan was cool, too. Our rent-an-Accord was great for the 17 days, but it's so nice to be able to put all the kids and all the crap into one vehicle and not have one's knees in one's mouth. Walking into the apartment was HEAVENLY. It smelled all stuffy and old and musty because all the windows have been closed, but it was home. And it's huge. Ryan, as promised in the van with his "when I get home, I can play with my cars! Can you believe that, Mom? I can play with ALL OF MY CARS!!!" ran straight to his car drawer and started playing while the girls snored on the couch. Walking into my kitchen--as it was last time I came back from the States, in January, after the half-marathon--was so great! I don't know why it looks so much BIGGER in person than I keep it in my memory. Usually, it's the other way around. Usually, I imagine my kitchens being big and then get back to find them crowded and cramped. I like this way better.
So, you know about the property. All's well with that so far... going on schedule. But you DON'T know about our week in Charlotte. And whether or not you even WANT to know about our week, I'm gonna write about it anyway cuz it was a great week and I wanna roll around in it.
Let me start by saying that of all the places I have lived, Charlotte feels the most like ME. I don't know why exactly, but when I'm in Charlotte, I feel GOOD. I feel ME. I feel strong and capable and confident and constructive and productive, etc. If I could have found a farm there for a reasonable price, I would be in Heaven. But, as you know, Heaven is for dead folks and I aint dead. So, I guess that's why I can't have it all. (Still, our little farm-to-be in Rustburg is going to be as close as we can get to Nirvana.) In Charlotte, I have a HUGE and exhilaratingly ecclectic collection of friends. I have green rolling hills and trees. I have the YMCA at University City. Okay, I'm not gonna keep going cuz I'll get all sappy and weepy. I just wanted to impress upon you how much I love Charlotte and how of all places I've lived, Charlotte is the most "home."
After a quick visit back to the property--and a quick walk through the woods... listen, how am I supposed to NOT go back and walk on my farm-to-be once before leaving? I strapped Lily in the buckle tai and just went up into the woods... Do you know how HARD it was for me not to let Lily go back to the car so I could get to work on clearing all the dead cedars and pines that are the result of years of drought? VERY HARD--we headed back to Charlotte. By the time we got there, we only had time for dinner and a shower.
Saturday, we spent the day just hanging out as a family, soaking each other up and reveling in the feeling that we had accomplished something incredible. We swam in the pool, went to the park, ate way too much and napped off all the chaos and emotional hills and valleys of our Lynchburg trip.
Sunday morning, we did a little shopping. Just odds and ends. While the kids napped, I went down to the hotel workout room and, well, worked out. 15 minutes walk, 15 run, 10 walk, 35 minutes bike, and another 5 minutes walk. Ab crunches, butt crunches and stretches. I ran back up to the room, threw on my suit, ran back down to the pool, did some laps to work on my arms, jumped into the whirlpool to soothe the muskels and then back into the pool for a wake up. When I got back to the room, it was almost time for my friend Mi to meet me for drinks and a movie. She got there early, so, I asked her to hang for a minute while I hosed off. A quick introduction of the kids and a tray full of hotel snacks to keep the whining at bay and we were off. We went to Jason's Deli where I built a huge, much-needed, and DELICIOUS salad and then decided to skip drinks and head straight to the show. We saw Julie & Julia which was a great flick--reminded me of me... you know, food, France, blogging and marriage drama. Afterward, we decided to sit outside and talk, again skipping drinks since it was so late and she had a longer drive than I, so we copped a squat on a bench just outside the mall entrance. We gabbed and caught up and laughed and gasped and hee-hawed and snorted. As we talked, from the corner of my eye, I noticed someone sitting on the bench across from us. I had taken off my glasses to give my eyes a rest, so at my glance, I thought it was an elderly woman. I hoped we weren't freaking her out with all our talk of gayness and silly-ness and drama. After a little while, she got up and walked away. Mi watched her walk away with a furrowed brow and said, "I think that chick got stood up or missed her ride or something." I looked at my watch, it was approaching 11pm. I put my glasses on and lo and behold, found that the person we were talking about was a skinny little shaking teenager. Immediately, something in me went snap. Something about her carriage. About her pacing. Something in it looked familiar.
"I wonder if she's homeless," I say.
Mi laughs. "Nah, too well dressed."
I looked closer. She wasn't THAT well dressed. "What if she's a runaway?"
"Nah, probably just missed her ride."
We continued our gossiping. The girl came back to the bench for a minute before getting up and walking away.
Mi's brow crinkled up again. "She's sniffling. She's been stood up."
I shook my head. "She's a runaway."
We both laughed.
Mi started to say something else, but just then, the girl turned. I saw her face and I knew.
"Are you waiting for a ride?" I hear my voice ask and am suddenly gripped by the impression that I am now that-creepy-lady-outside-the-mall.
"Huh?" The waif says.
"I mean, have you been stood up or something? Can we help you out? You need a cell phone?" With every question, I'm feeling more and more like a flasher or something.
"My mom dropped me off and I was supposed to go somewhere with my sister, but she told me I couldn't go because they were going to a bar." She sniffled.
"So, you're stranded? You wanna call your mom?"
"She wouldn't come. She dropped me off. She doesn't want me to come home." She started crying.
I was filled with a thousand different emotions--fear, nostalgia, guilt, caution and big fat mama bear! She was me about 20 years ago. Not the exact same situation, but just as lost. "Can I hug you?"
She walked into my arms and exploded into tears. I choked up. I felt like a time traveler allowed to go back and hug my younger self.
She sat down and explained that her mom had a new husband or boyfriend or whatever and he didn't like her. Long story short, her mother had finally just told her that she didn't want her to come home. Had chosen the man over the 17-YEAR-OLD CHILD. Okay, I understand, 17 year old children are NOT innocent and perfect and whatnot. But they are still children. I don't know WHAT this girl had done to provoke this action, but I do hope that no matter WHAT my kids do (short of turning Republican... oh, I'm KIDDING... kinda), I'll NEVER drop them off at a mall and expect them to sink or swim.
I let her use my TracFone to call her "other sister" who lived about half an hour away, who had four kids and who used to be (or still might be) a drug dealer. *sigh* The sister's husband agreed to come get her. I felt HORRIBLE about that, but what was I supposed to do? I didn't have room in my hotel and Sam would have KILLED me anyway. Mi has a roommate and two kids herself. I didn't wanna give her my number cuz I was leaving and Mi didn't want to because that might seem creepy. We had no choice but to sit there and wait with her while her brother-in-law came to get her.
Mi and I have similar pasts of being lost and transient, so we shared our respective experiences and told the waif that she would get through her situation and end up an old fat lady with kids some day. I'm sure we scared the living shit out of her with all of our, "I stuck anything and everything up my nose" and our "I was the blow-job queen... A six pack and smile was all it took for me to give head", etc. But we probably scared her more with our stories about our own kids (I noticed that her eyes sorta glazed over during those parts, but I couldn't help but keep gabbing because I thought the noise would comfort and distract her).
By the end of the whole ordeal, the waif was talking about moving to Minnesota to live with her best friend (single mother high-school-dropout with GED now taking college classes). I was comforted when she said, "I just need to get back in school." She herself had dropped out in 10th grade, tried to go back a couple of times, but felt singled-out by teachers as a bad seed and ended up not making it.
When her ride showed up, Mi gave her a small can of pepper spray (hey, you NEVER know) and I gave her all the cash I had (only $5). We hugged her and sent her on her way. The car was filled with a sticky silence as we drove back to my hotel. Mi and I tried to make light banter about what had happened... patting each other on the back for having done a good deed, but I suspect, both internally feeling worried and guilt-ridden for not having been able to do more.
Back at the hotel, as we hugged our goodbyes, I told Mi that I was glad to have shared that experience with her. I hope we scared that girl back to school!
Okay, it's 4am and I need a short nap... To be continued...
I'm back, slightly rested and STOKED about spending the WHOLE day at the movies for post-vacation therapy!
So, back to CLT. Monday, I went to the Y and did Tabbitha's kickboxing class. It's huge now and needs the gym to accomodate all the participants which is cool because the group exercise room was always a little cramped for all the kicking and jabbing going on. I thought, "Cool, I bet because I've been doing so much kickboxing at home I'll be able to hang right in there with the big kickers." What a joke. Within fifteen minutes, I was tempted to sit on the floor and just take notes--write down moves for later when i'm in my own little exercise room at home and can control the speed of the music. But I didn't. I hung. At the end of the class, my shirt was SOAKED. LITERALLY SOAKED. I had to MOP up the floor where I had been because it was so sweaty. I promise I'm not exagerating.
I went to Zumba next. Ahhh, Zumba. Like a long lost lover! It was SO great. First of all, my instructor and friend, Lisa the Extraordinaire, has somehow become like Super Zumba-er or something. She has come up with all these new routines set to brilliant music (of which she later gave me a CD thank you very much... woman knows how to feed an addiction, huh?). ALSO, there were several of the ladies in there from when I used to Zumba. There were a lot of, "Girl, where you been?"s and a lot of "You're BACK!"s. It felt so great to be missed and remembered. It was INCREDIBLE.
Afterwards, I stayed for Power Cycle because Allison, when I said, "You scare me... You're too much of an ass kicker", said, "Hey, it's all you, Girl! You control what you do. The intensity." Well, I fell for it and got on a bike. But after all the kicking and jabbing and twisting and bolero-ing and cumbia-ing, I just couldn't really hang. I stayed for half an hour but really started to feel tired. When I left, I could barely walk on my shaky legs. I love and really missed that feeling.
I went home, jumped in the pool, hot tub, and pool again had some lunch and then took a nap. Went to Rachel's house briefly to see her, hug her delicious little babies (okay, they're not babies anymore, but I squeezed and kissed 'em like they were), and load up all the books I had ordered (it was like Christmas, Rach and I standing in there unwrapping all the books, DVDs, a package from Shannen with an adorable hand-made present for each of us (and 20 Taco Bell seasoning packets... now THAT's love!), oohing and ahhing at the titles and the sheer volume of volumes).
I rushed home, dropped off the fam and jetted over to the Wine Vault where there was some drinking going on in my honor!!!! There ended up being a good dozen of us there. First thing I saw was my friend M with her little boy W there with a big gift bag on the table! She said they couldn't stay cuz she wanted us all to be able to have some adult conversation without having to edit. I mean, does a person get any more generous than that? Bestow a few moments of her precious presence on me, give me a present and hugs from W and then jet on out of there so I can be profane? Dude, that's true friendship. And the present was a PASTA MAKER!!!! That means, yes, I have TWO now!!! That also means that on Pasta Saturdays (the day once a month or so that I recruit Sam to help me roll and cut pasta), I can put Sam to work on his very own pasta maker!!!! THANKS M and W!!!!!! M also introduced me to another M (M2?...not that she's lesser... just second in order of appearance in my life) who she said was my "blog stalker"... could anything be more flattering or rewarding? I mean especially after just having seen Julie & Julia!!! I was like, "YAY!!! Someone I didn't know was actually READING me... cheering me on... wanting me to succeed!!!!" *sigh* I can't even tell you. This M2 and I are now FB friends and I can't wait to get to know her better!
My lovely friend Anne was there. Anne just recently (RIGHT before I went to the States) discovered that she had a brain tumor. She discovered while I was in Lynchburg that it is an agressive cancer. I am devastated and SO worried for her because she has a little girl Lily's age and NO INSURANCE (not to mention... No, I just won't mention it... suffice it to say, her boyfriend's a douche). Anyway, Anne was there with our friend LAG. It was so good to see both of them. But just a few minutes after I got there, Anne had to leave because she wasn't feeling well. I felt HORRIBLE because in all the book frenzy, I got to the Wine Vault twenty minutes late... that means I missed twenty minutes of Anne. But I was REALLY glad that she got to get out of the house AND that she got to meet Aubrey who told her about a special kind of medicaid for cancer!!!!!
Okay, so, after glass number 2 of wine, I have to say, things were giggly and silly and somewhat blurry. But what I do remember is speaking French with Roz, eating a kick ASS spicy slaw burger (Carolina Original?), eating half of Kristen's burger (well, splitting it with Sian), tasting a white wine called Sweet Baby Jesus (LOL!!!), splitting a bottle of yummy, fruity red with Susan, gabbing with Long Lost Sherri (!!!!!), only getting to say two or three words to Laurel (but I did send her some, I-Just-Adore-You smiles and some I-wish-I-were-sitting-closer-to-you winks), laughing my ASS off at Kristen and the funny Southern way she has of saying things, seeing M, W and M2 again as they passed back by, Aubrey and Kristen talking about something called a "lemon party" and then actually looking it up online so they could show us *shudder* (at least those three dudes looked HAPPY), Susan turning into our substitute Token, my friend/neighbor Mechelle's late arrival and being beside myself with joy to see her AND Roz's plans to come visit in October (and don't think I won't hound you about it!). All in all, it was an incredible night. I had a BLAST, felt SO special and loved and missed!!!!
Okay, I gotta go spend the day at the movies... To be continued... again!
I'm back. I went to the movies thinking I was going to see District 9 but it ended up being NUMBER 9. Still, it was surprisingly good. I came home to shower cuz I was REEKING after my Velov ride to the cine, and then after my shower, I figured I'd let Sam have a turn at the movies since I'm gonna go see Basterds with Flavia and Gilles tonight.
Where was I? Oh yeah, Tuesday. I spent the morning nursing my hangover and trying to get myself in working order so I could make it to Light and Lively at the YMCA. It's usually taught by a lady named Sylvia, but my friend Lisa was subbing. Let me just tell you what a good thing it was that I went on Tuesday!!!! First of all, I could BARELY move when I got in there. All that working out while here in France!!! I thought that would prepare me for working out at the Y and I GROSSLY underestimated. There was not one part of my body that wasn't sore. I kept up pretty well and felt a THOUSAND times better afterward. Like Lisa said, had I skipped Tuesday, I would have been DYING on Wednesday.
Okay, since Tuesday was Mi's night and since she had to resched to Sunday, Tuesday was open. When I was chatting with my friend Ju (yeah, the one who comes to France!) earlier on-line, she said, "Hubby's on vaycay through Wednesday. When you comin' over." Since it was open I said, "Tonight?"
So, we went over there for dinner and beer. I stopped at the store to get some Hornsby's for Sam and something beer-y for me to drink. I reached for some St. Pauly Girl Dark but noticed another beer that said, "organic"... It was a pale ale--not usually my fave since I prefer darks--but "organic" gets me every time.
The kids had a BLAST!!!! Remember when Ju came to visit in July and our kids didn't really hit it off like they had the summer before? Well, chalk all that up to their jet-lag cuz when we got there, they acted like they were long lost siblings. Jumping on the trampoline, driving the electric car around the yard, splashing in the kiddie pool and sliding down the slide in borrowed swim diaper shorts. Yummy pizza (both homemade and store bought), YUMMY picked veggies, vegan tapenade, spicy thai cashews, chips and salsa, cheesy veggie booty, baby carrots and.... BEER!!!
Bad news: my organic beer SUCKED!!! Luckily, Ju's hubby has AWESOME taste in beer. He gave me this one stawberry beer that he said he didn't like but I LOVED it! Then there was this dogfishhead (or something like that) and that was one of the most amazing microbrews I've ever tasted. Even his pale ale was full bodied and exploding with taste!!! Saved my evening! We listened to classic rock and watched the kids play until WAY past our bed time. My favorite moment of the evening was hearing Syd-ney tell Ryan, "You're my best friend in the WHOLE world!" Oh, I know it's not entirely true and I won't hold it against her, but it was SOOOOO sweet to hear her say it. It was SO cute to see little Bex driving Lily around in the electric car or putting his arm around her. It was SO fun watching Lily and Lolo actually PLAY together. AND it was great ironing out wrinkles with my good friend Ju. We had built up a lot of misunderstanding, miscommunication (or just plain lack of communication) and negligence but we got that all cleaned out and bandaged up. All in all, I had a GREAT night. SO great I had to let Sam drive home!!!
Wednesday morning, we were supposed to get up EARLY and go on a farm tour. Well, because of the staying up late and the intervention of hangover, we didn't make it out to the farm until almost 10am. Blah. Still, the tour was GREAT. We got to see a few (and yet unseen) ways to do poultry. We got to visit lots of garden. We got to talk tractors!!!!!!! YAY!!! It was great to learn some new stuff and to make a new connection. Turns out the farmer from Wednesday knew the farmer from Thursday and had heard that we were going to visit, he said that it was a shame we hadn't coordinated it better so that we could have seen both in the same day. I agree except for the fact that the kids were just completely exhausted and acted up the entire time we were there. Another farm tour that day and we might have been put in jail for screaming at our kids.
We went back to town and went straight to our fave Chinese resto for all you can eat sushi on their lunch buffet. Delicious as always. The kids went to town on chicken cooked in various sauces as well as green beans and lo mein. I must have had six plates of sushi!!!
Back to the hotel for a quick nap cuz we were s'posed to go and hang out with Rach that afternoon. Quick nap turned into long nap (as they do). So, I called Rachel and said, "Whatcha eating?" We stopped by Bloom, got a rotisserie chicken and some deli salads (and pretty good replicas of French baguettes) and went to her house for dinner. Again, the kids had a BLAST playing with each other. Rachel's kids are so ridiculously cute and playful that we could barely even talk to each other over the racket. I love that. And I sniffle just remembering it. I miss you guys!!!!
That night I was supposed to hang out with the gay girls (that's what I call the LGBT group of Charlotte Mommies), but one of our brood went into labor earlier in the day--information I had somehow missed until right before going to Rachel's because I was gone or asleep all day. So, plans changed to meeting Al (the baby mama) at the hospital around 7:45 and heading to Aub's house afterward. Well, I felt sorta stuck. Not that this would HAPPEN, but I didn't want to borrow any thunder from Al's big moment. I just figured she should be surrounded by her crew, to cheer her on and pet her and love her and wait on her. My being there would just distract that. Then again, I REALLY wanted to see her and kiss her new little angel. I figured if I had time the next day, I would pop in for a visit just the three of us. So, I told them to head on to the hospital and I would just see the rest of them at the party after 8. BUT, when I called Aub at 8:30, she said she was JUST then GETTING to the hospital. By then, Sam was griping about me getting such a late start. Going on about how I was going to be TIRED again the next day during our last farm tour. About how I needed to stay until the laundry was done because he couldn't leave the kids alone in the hotel room to go downstairs and check on the clothes. Also, all but one of the partygoers had backed out of the party anyway. So, while I would have LOVED to see H and her new girlfriend T, I just emailed the girls and told 'em it wasn't in the stars for us this time. I figured it was best that way anyway cuz it meant they could stay with Al longer.
Thursday morning, I went to Light and Lively again. It was harder that day for some reason. I think that the bouncy, unsupportive hotel mattress was really starting to take a toll on me. Half way through the step aerobics part of the class, I got a huge right glut cramp and couldn't hang with all the side lunges and stuff. But I stuck it out until the end and felt better for it. Lisa, the lovely wonder that she is, brought me a little gift bag with a shiny new YMCA towel that I will use every time I work out downstairs--it'll make me feel like all those awesome ladies are there with me--and a Zumba CD!!!
After Subway lunch at the hotel, I let the gang go to sleep and I took a shower before driving to Anne's to see if I could kidnap her and take her to the movies just to get her out of the house. But when I got there, she had just gotten back from having been out at Wal-Mart (HEXES and SPELLS, evil empire!!! Ahem, sorry!) and was too tired. So, I just sat with her for a few minutes to just soak her up before she had to go lie down. It was great to see her, even if for just a minute. So, instead of the movie, I went and bought a few things at Target (HUGS AND KISSES TARGET).
Okay, going to the movies with F and G... to be continued!
I'm back... It's the next day. I saw Inglourious Basterds with F and G last night and LUUUURVED it. We went out for beer and yummy salads (and cafe gourmand) afterwards. *sigh* Good to be back!
Anyhoo, where was I? Yeah, okay, so I forgot to mention that it wasn't until WEDNESDAY afternoon that I realized I had missed a Tuesday coffee date with my friend T. I felt HORRIBLE and groveled a little until she said she had forgotten, too. By Thursday, though I tried to find a slot for the coffee-ness, I just couldn't.
Thursday afternoon, we had a farm tour scheduled, but the weather wouldn't cooperate. There was rain and lightning and it was sporadic and intense. If it were just rain, I wouldn't have canceled. I'd have just gone and bought two huge umbrellas for Sam and me (since we put the girls into the carriers while on the tours) and a little one for Ryan. But lightning? Nope. Not worth the risk. Instead, I packed. I also shopped a little. Gifts for the neighbor kids, new socks, some Body Glide, etc.
Around 6:30, we headed toward Tony's Pizza to meet up with some super cool peeps. Sian and Laurel and their GORGEOUS fams. Two women I hadn't met before (Amber and Angela) who both ended up being super cool (and with whose kids Ryan had a BLAST playing). AND there was a brief cameo by Amy and her fam. I wish I had gotten a chance to catch up with her but they were heading out right when we got there. I didn't even get a chance to say g'bye--Sorry Amy! You're girls are SO GROWN UP now!!! Tony's was seriously a riot!!! For one, Amber showed me this cool trick--cutting pizza into little kid-friendly bites with a pair of common kitchen shears!!! BRILLIANT!!!! For another, Sian makes me pee my pants laughing (as usual). I got to talk cycling and triathlon with Laurel, Angela and her husband (Bill?). Sian's little boy E hit his head on some moulding and ducked down on the floor... I said, "You okay?" He said, nonchalantly, "Yeah, I'm just thinking about something." DEFinitely Sian's kid. I tried NOT to laugh, but it was SO freakin' funny and cute. I looked over to see.... Sam.... My husband........ Talking with a group of guys!!! BY HIMSELF!!! That NEVER happens. And I have to say... I felt like a mother on her kid's first day of school. It was so cute to see him playing with other "kids." I got to chase Lolo around the restaurant as she went from table to table flirting with other customers. I also got to go back in and look for the keys I had lent to Lolo to keep her distracted. I also got to have a near heart/panic attack when I couldn't find said keys--not even in the trash or bathroom. AND I got to have the sensation of wanting to throttle my husband when he said, "Pockets? Oh yeah! *I* have pockets!" and pulled the keys out of his pocket. I got to stand and talk to my dear friends Laurel and Daniel about them getting their asses over to France, while our kids ran around in the parking lot or climbed into their car to honk the horn or harass their daughter.
Which reminds me... I wanna buy their Volvo when I get back!!! Guys, don't let me forget. I want that Volvo!
So, Friday was a frenzy. It started with a final load of laundry. I stayed with the kids while Sam went to the bank, the post office and Kinko's to wrap up property-buying stuff. I tried to wait patiently but the only thing I could think about was that I hadn't yet purchased my Asics or a new shirt from Old Navy. I don't buy clothing for myself too often, but I allow myself one or two new shirts and one or two new pairs of Asics a year (actually, I don't buy that many shirts, but I at least give myself the permission to do so). I had already given up my New Bra Allowance to buy "farming" books (How to Raise Goats, How to Raise Chickens, Edible Wild Plants, Wild Mushrooms, Homesteading, etc.) and four new Targetoutfits for Lolo since she's starting day care full time and it already growing out of Lily's hand-me-downs. (To the boobies: Sorry girls, you'll just have to wait another year for the support you need. Until then, why don't you try to lose a little weight, eh?)
Anyhoo, so as soon as Sam got back from all his running around, I said see ya later. By then, I was stretched thin. The kids, having sensed that something was up (um, that we were leaving) were CRAZY. I was stuck trying to referee their craziness AND finish packing to where each suitcase weighed less than 50 pounds (the allowable weight to not pay a fee). Keep in mind that I now have about 100 books to strategically pack. I have to pack the suitcase, take it down to the hotel's gym room, weigh it, and then, depending on the verdict, shift stuff around. So, you can imagine how hard it is to do all that while the children are screaming and fighting IN SPITE of the fact that Lazy Town is BLARING on the television!!! When Sam walked into the room, I walked out. I went to Target to get Lily a new back pack for school (she starts public in a week). I went to Old Navy, found some shirts on clearance and was able to get THREE! I went to Dick's Sporting Goods and after much disappointment with the service, finally SETTLED on a pair of orange and white 2140's (when I really should have just GONE to Run For Your Life and gotten my good ol' Kayanos... I didn't think I'd have time, but in the end, with the bad service at Dick's, I WOULD HAVE HAD enough time). I have Sam calling me and yelling at me for being gone, though I've only been gone an hour.
I get back in the room and Sam's being a DOUCHE to me. Pressuring me, stressing me out, yelling at me for being gone, for buying things, etc. But look, I'm not a frivolous, extravagant person. I WILL buy the shoes it takes to keep the knees I was born with as long as humanly possible. And I WILL go ahead and splurge on a shirt for myself once a year. And I WILL allow myself a little away-from-the-kids time since I just spent several hours doing ALL the work WHILE watching the kids. So, for the most part, I let his passive agressive bullshit roll right off me and felt pretty justified in doing so.
The only bad thing was that Sian had invited us to come chill at her pad until time to go to the airport and I was swiftly realizing that that wasn't going to be a good idea. I mean, it WOULD have been a good idea for the kids. They would have played with Sian's E and W and would have blown off some pre-travel steam!!! BUT, then Sian would have had to witness one of the deeper valleys of the Tissot marriage and I just didn't want to subject her and her kids. Plus, by then, the kids knew we were about to take the plane and were ANTSY to get to the airport. Once we got there, Ryan actually said, under his breath, "Don't worry A (his little neighbor friend), I'm on my way home. I'll see you as soon as I can." *sigh*
So, we stopped off at Subway (and I ran in to Food Lion to get Teri some Ranch (Hey, remind me to send that to you... can you FB me your addy?)) and headed to the airport. I sniffled nearly the whole way. Have I mentioned that I love Charlotte?
Good news is, we didn't have to take two trips to the airport because I'm a GENIUS at packing. We had six checked bags and all of them were under the required 50 pounds. We had no probs through security and stuff. I realized at the LAST minute (after nearly half an hour of stretching my maxed out gluts) that the airport had free wi-fi!!! *eye roll* But I logged on to give my CLT peeps a final au revoir via FB. *sigh*
I didn't sleep a wink on the plane. I can't believe I'm about to admit this on the entire Internet, but... I watched that goddamn Hannah Montana movie. AND, while it was STOOOOOPID, she really does have a pretty good voice. I finished my book, read my way through half a Time magazine and took care of Lolo (who only slept about three hours total). By the time we got to Munich, I was slap happy and had to walk around in circles with the kids just to stay awake. I fell asleep during the last 20 minutes of the Munich-Lyon flight.
And there you go... That takes you back to the beginning. Arriving in Lyon, safe and sound, all the luggage accounted for, loading up into the van, texting Flavia that I was home and ready to go out to the movies...
You should SEE my bookshelves!!! PACKED. It looks SO much better than the barren wasteland they nearly became. I made it through quite a few books these past couple of months and was definitely in need of a refill.
Okay... I'm going to go upload the fotos and put 'em on here... To be continued...
And now... for pix:
First... Random pix...
Sushi (just before we left):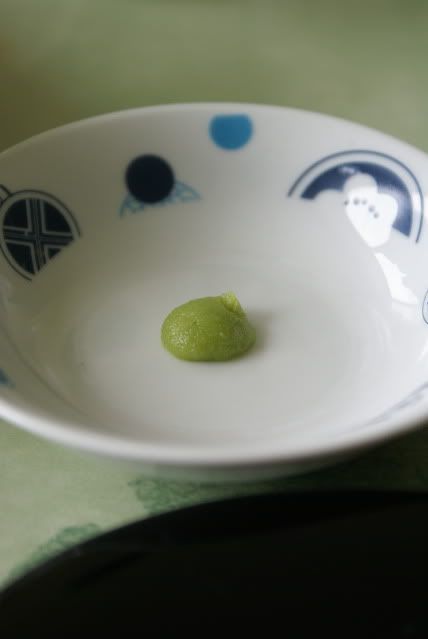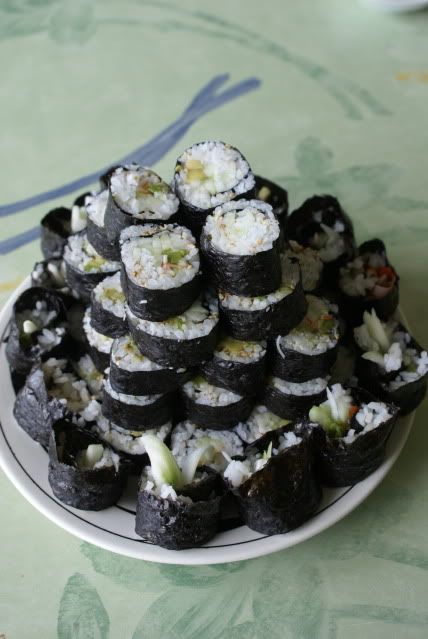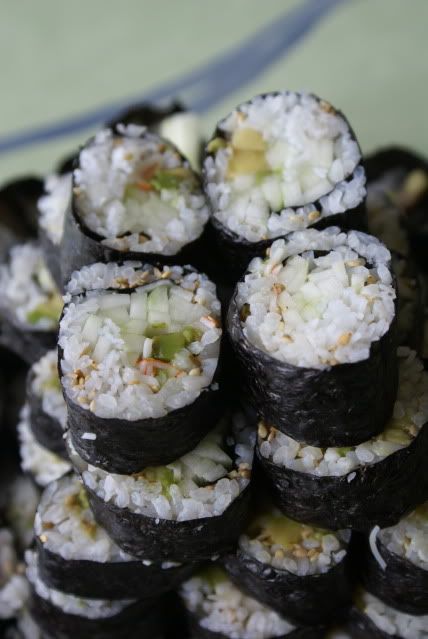 Ryan's last day of day camp just before leaving:
Spidey pose:
In the garden with Pepe!!!!!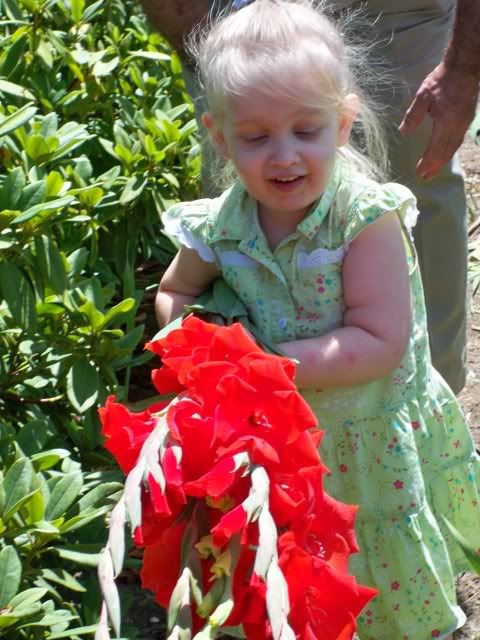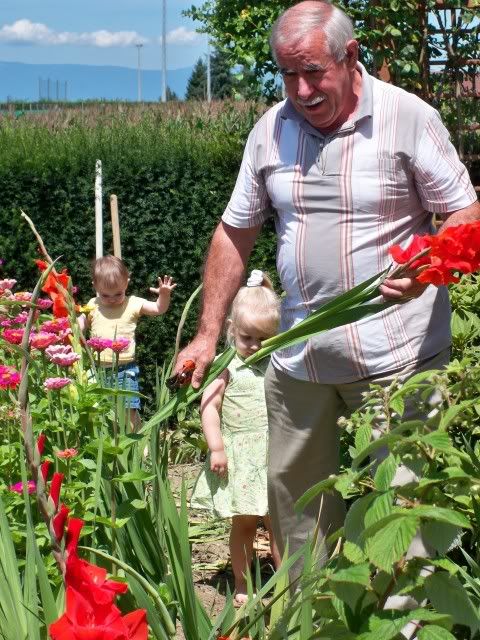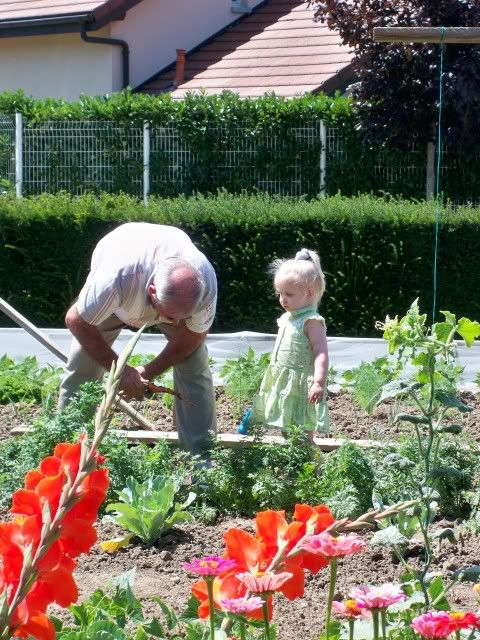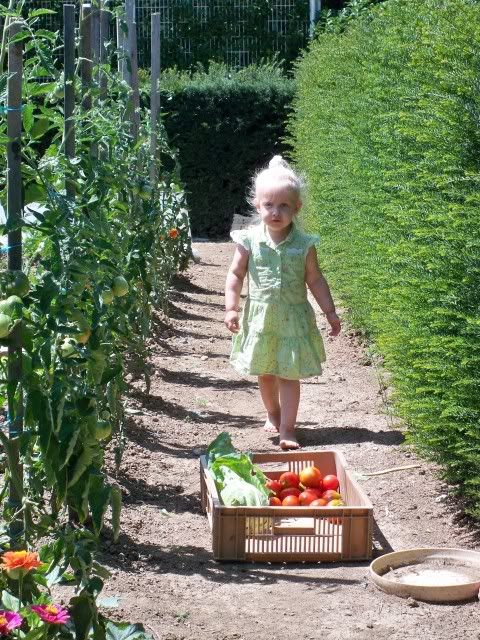 Shhhhhhh, Pepe's sleeping!!!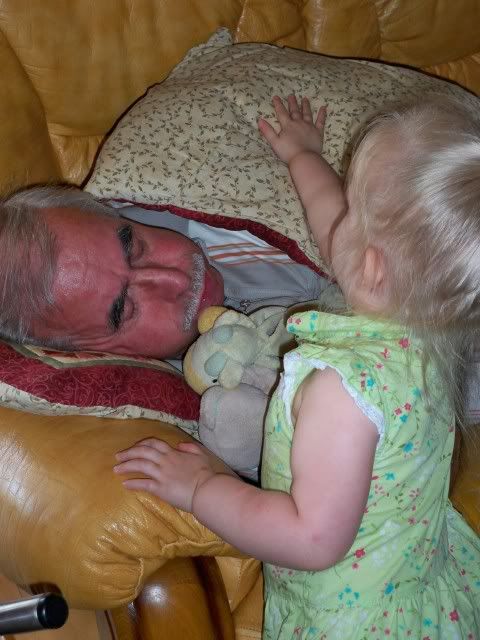 Ahhhhhhh relaxation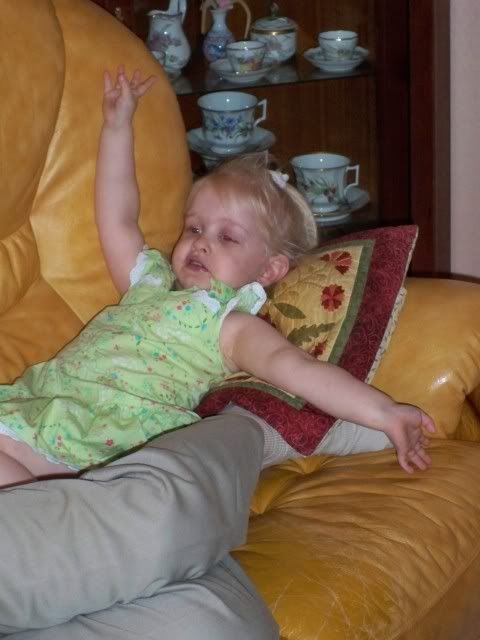 Snuggling with Pepe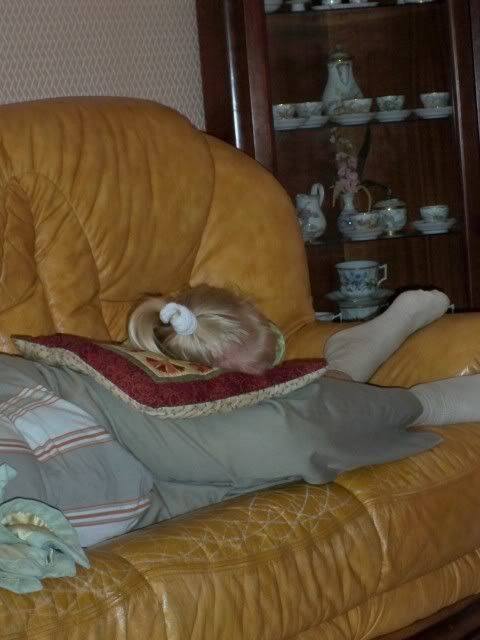 Layover in Munich: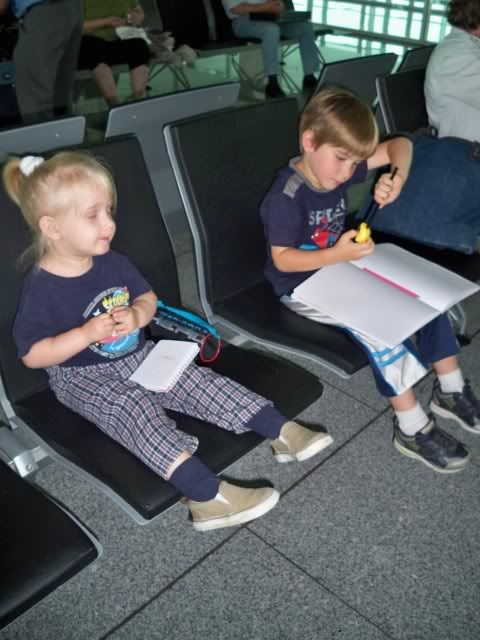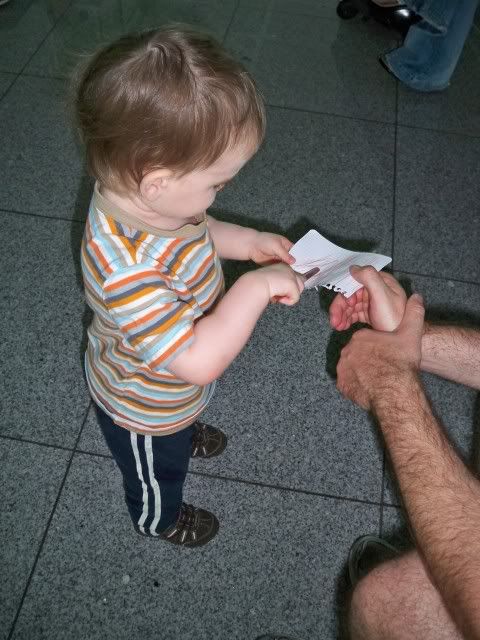 Farm tours:
Mountain Run Farm...
Hay Maze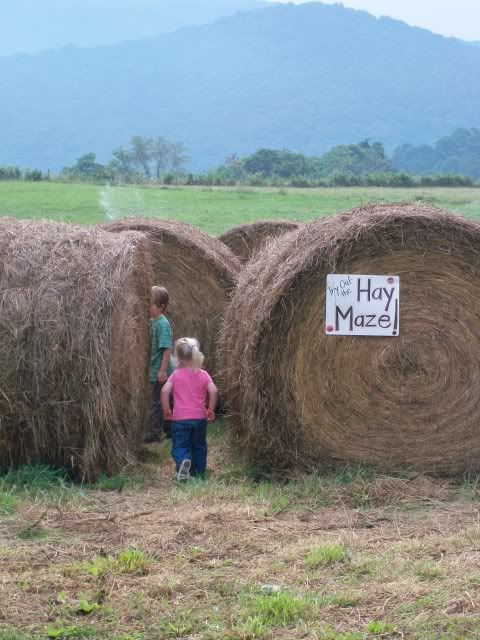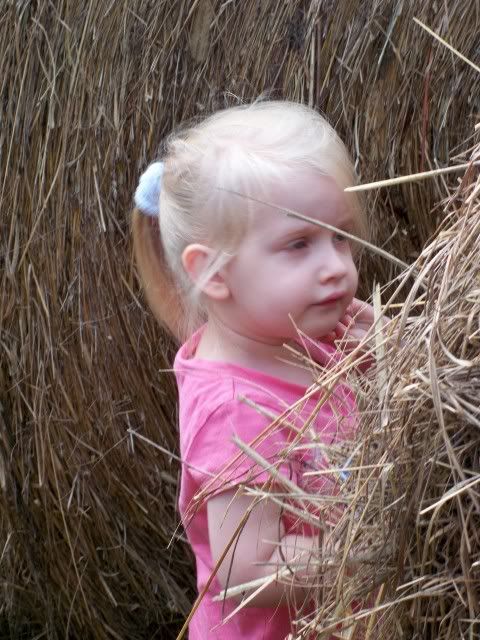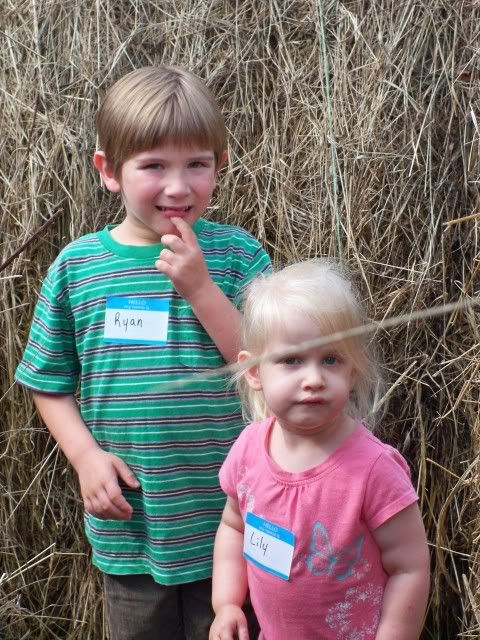 Meat store (they have a freezer there where you can come any time you like and get whatever you want (beef, chicken, catfish) and pay for it using the honor system)... the day of the "field day" they also had artisan breads... yum!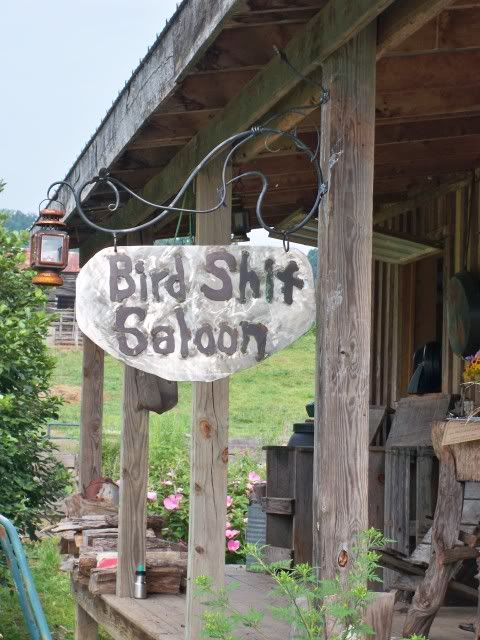 Hanging vase
Fowl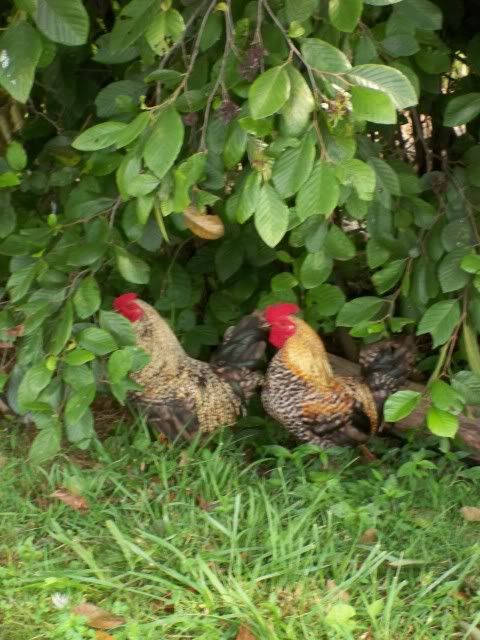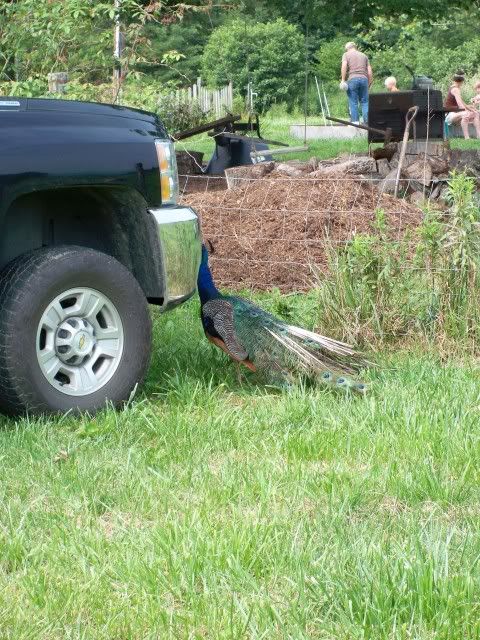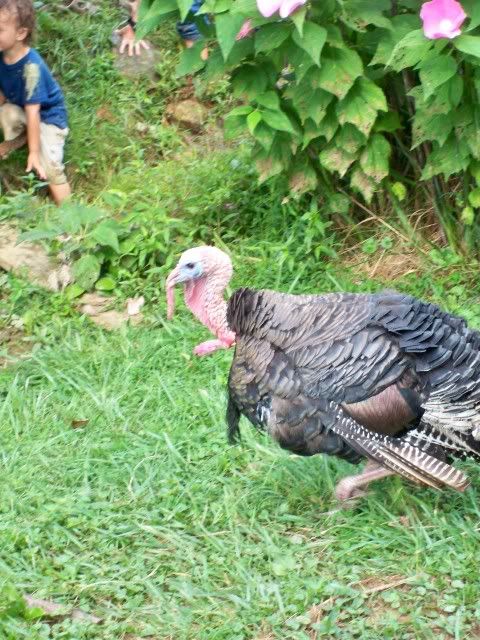 Mama cow named "Primrose" (family dairy cow)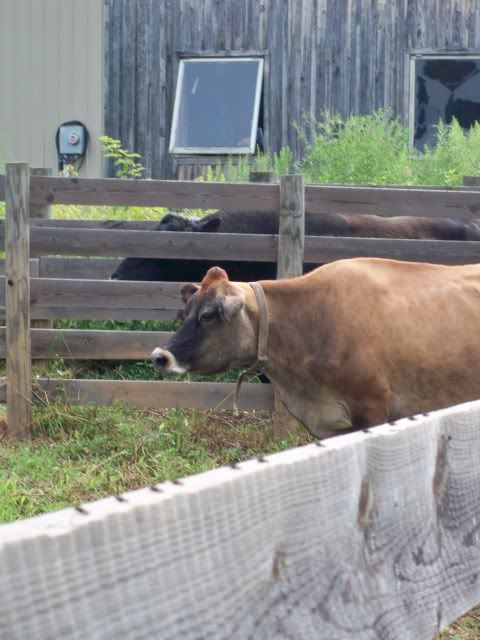 Calf
Pet goats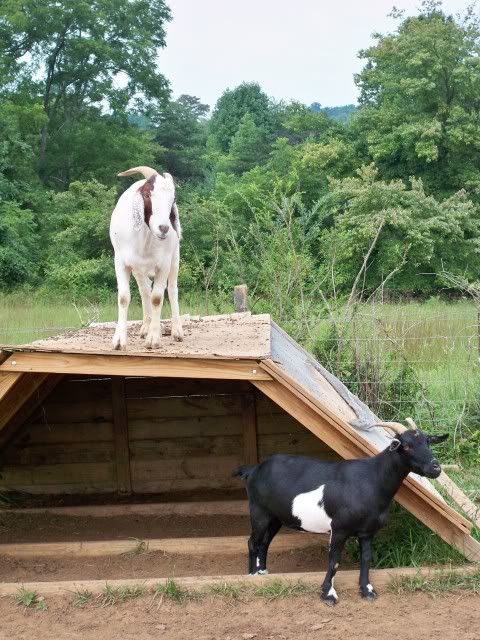 Farmers-to-be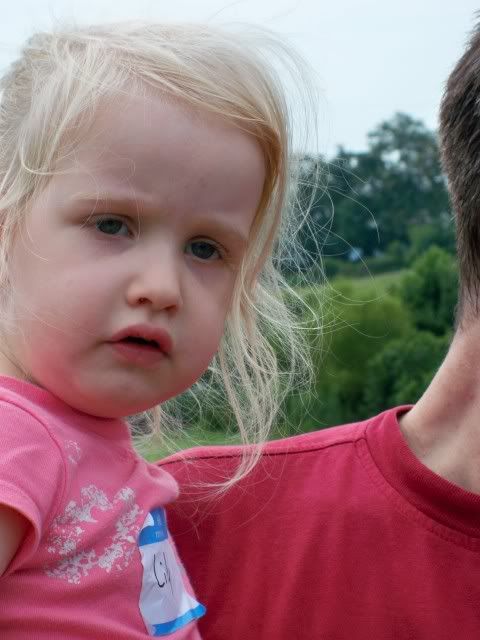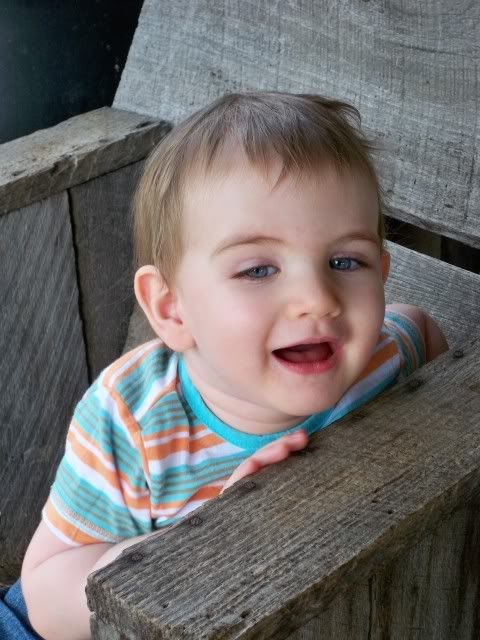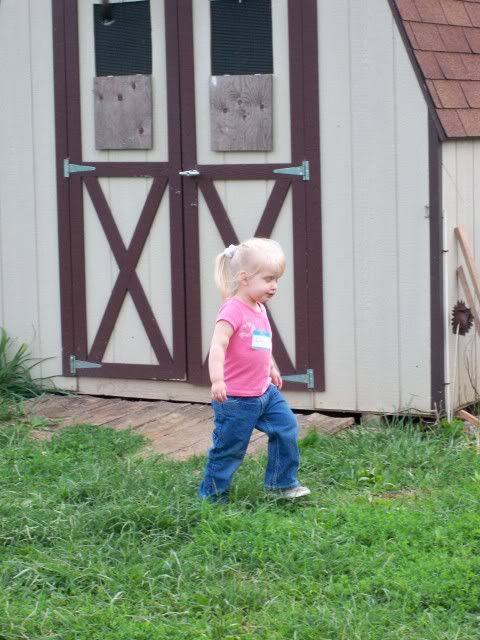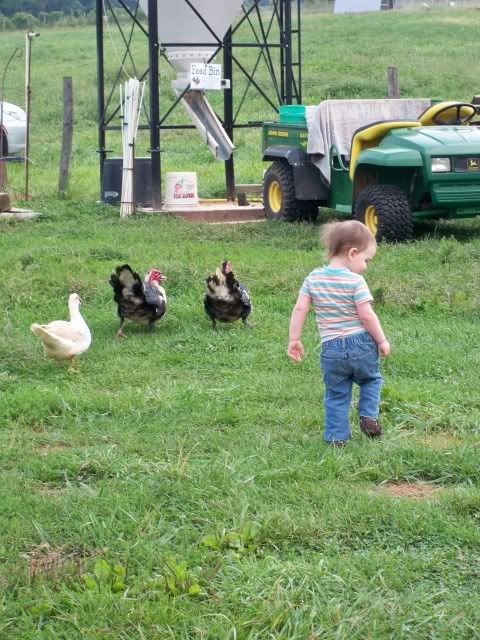 Milking barn for family dairy cow
Swine in the grass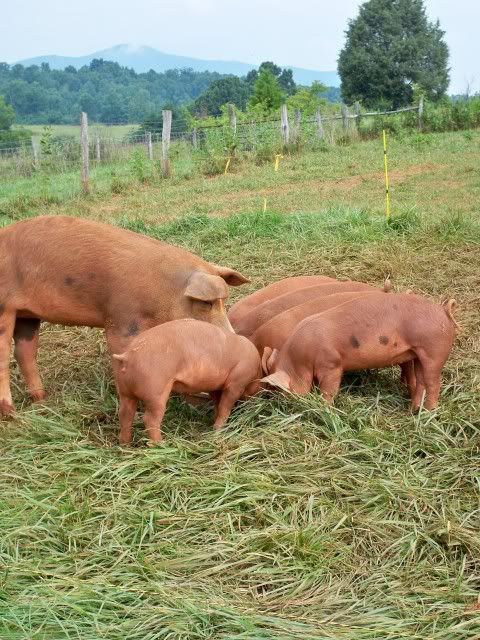 Feeding the horse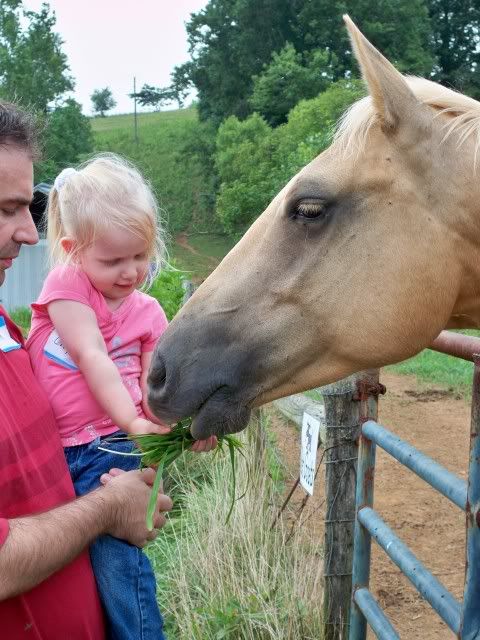 aaaaaand... chickening out!
THIS close to a nap!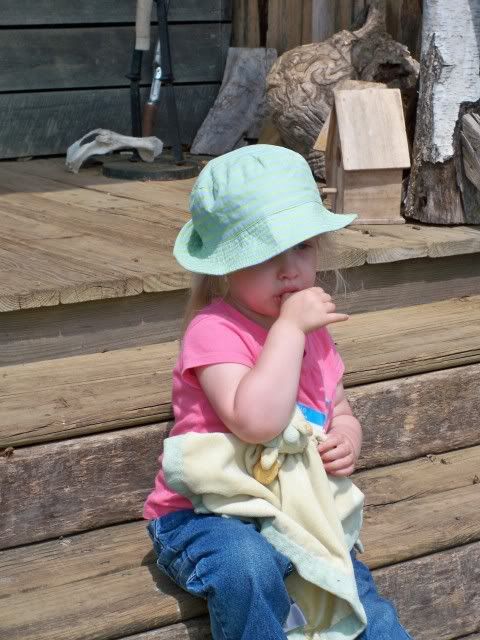 Lunch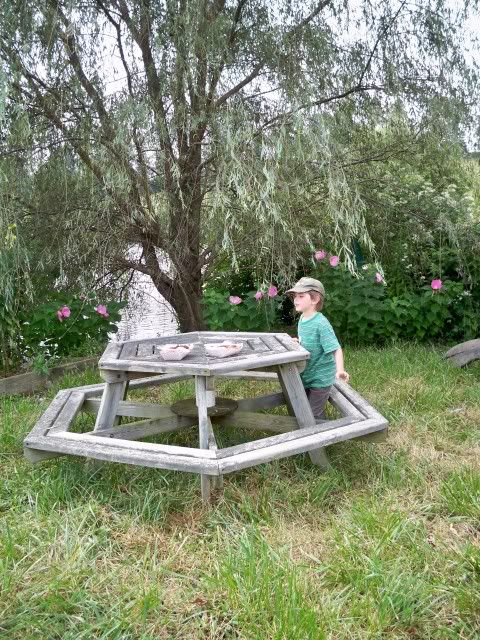 Looks like driftwood but it's a "bateau" paddle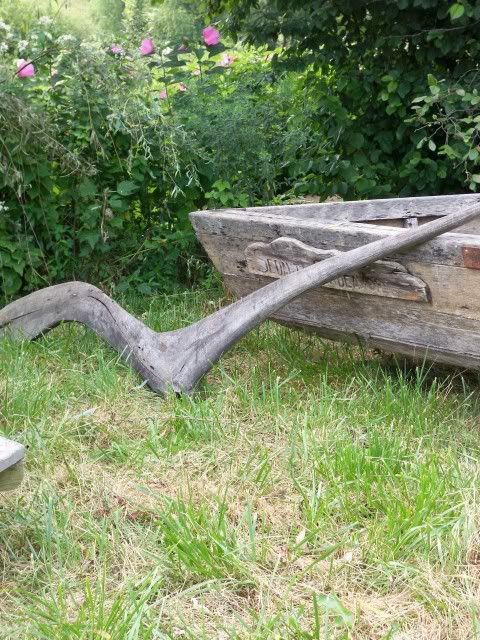 Pond
Big Geese-esque Ducks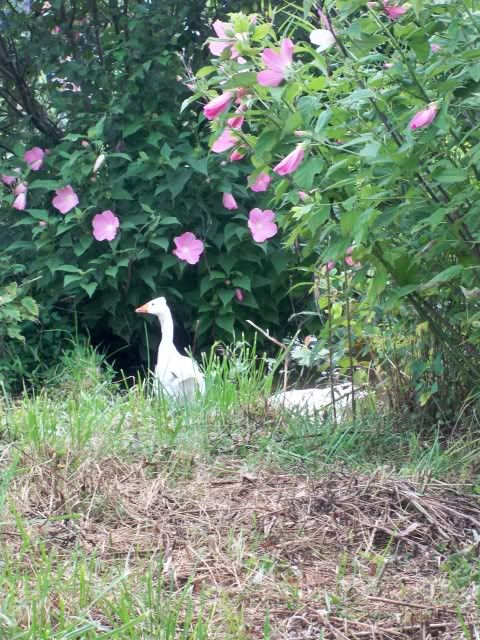 Lily with the chicks (we almost had to tear her away... it was embarrassing)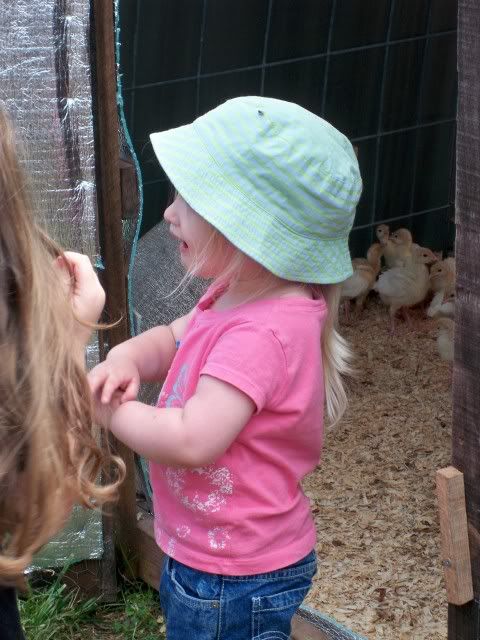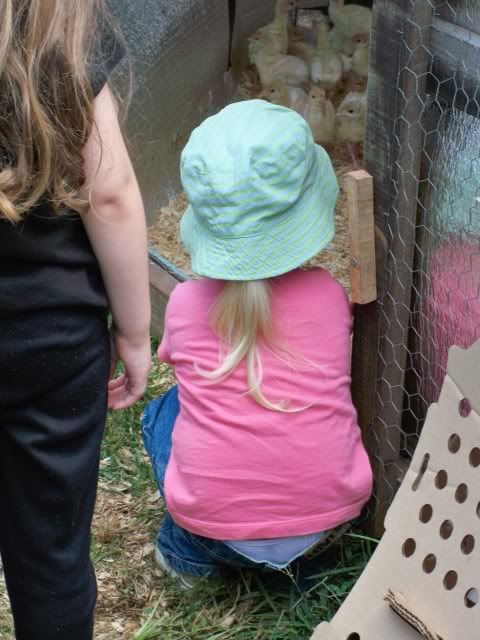 Um, old building
Um, Feed Bin
Um, Biodynamic Compost Pit
Davis Creek Farm...
Chicken (and human) babies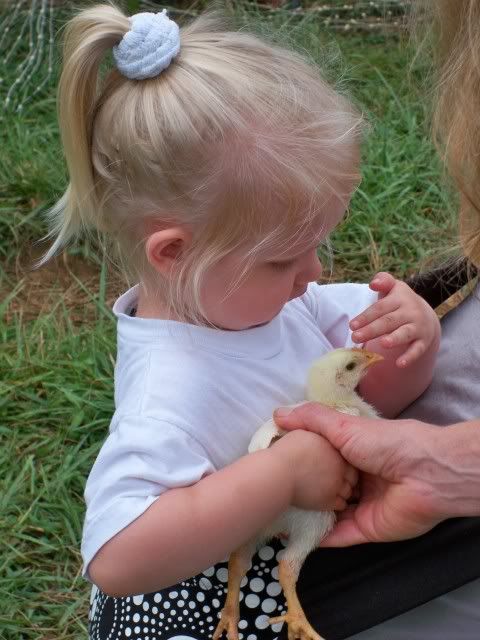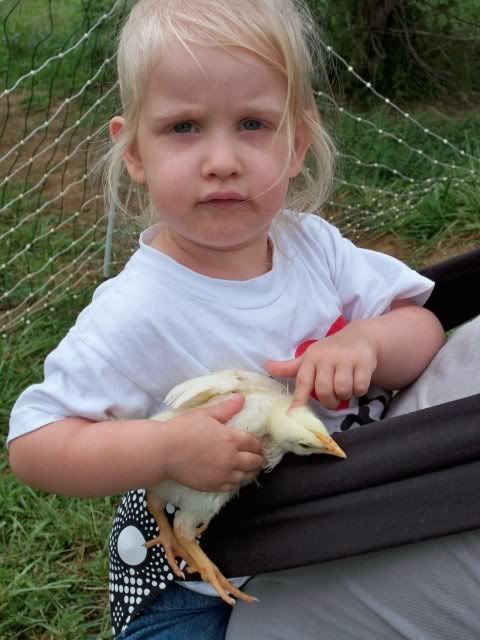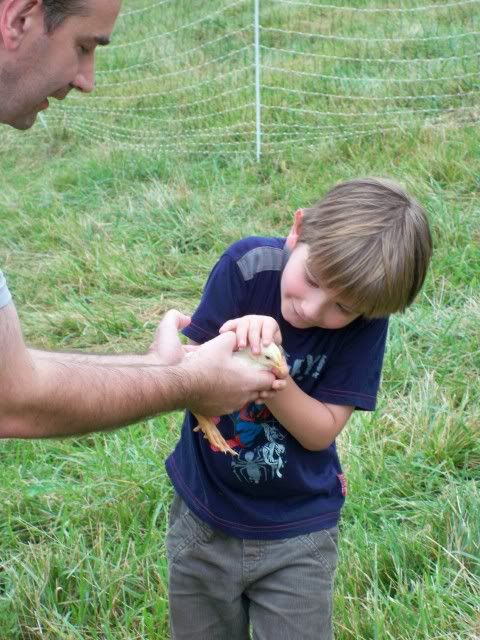 Chickens--a little older
Big friendly snake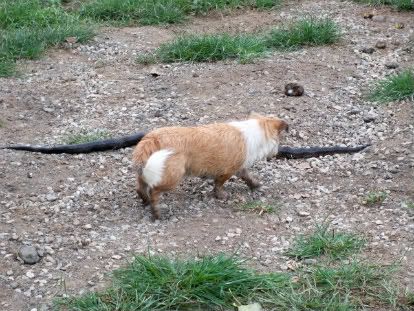 Lily and hamster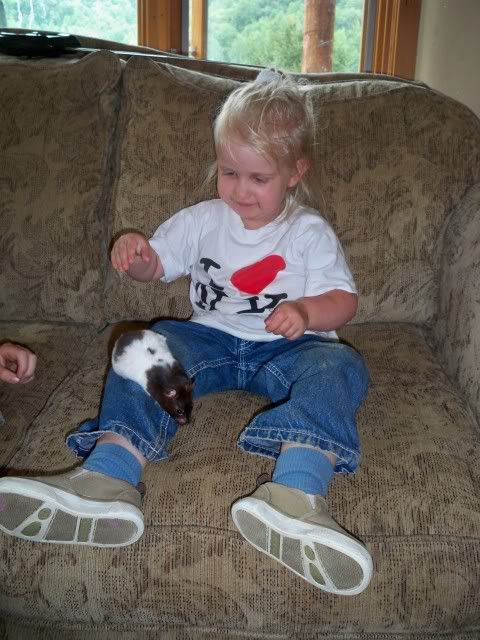 Best of What's Around Farm...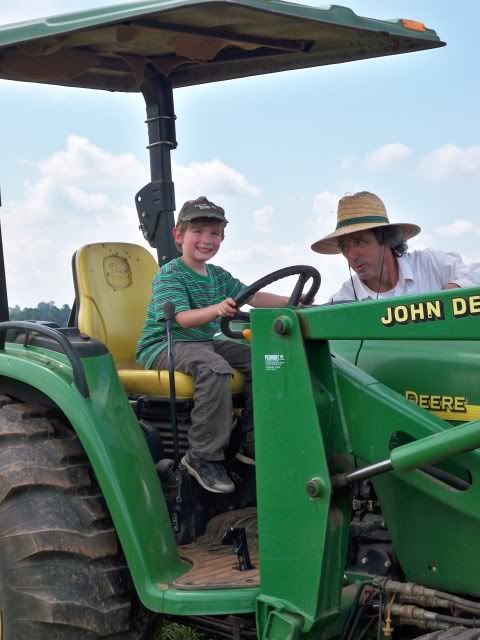 Carlea Farms (North Carolina)...
Turkeys: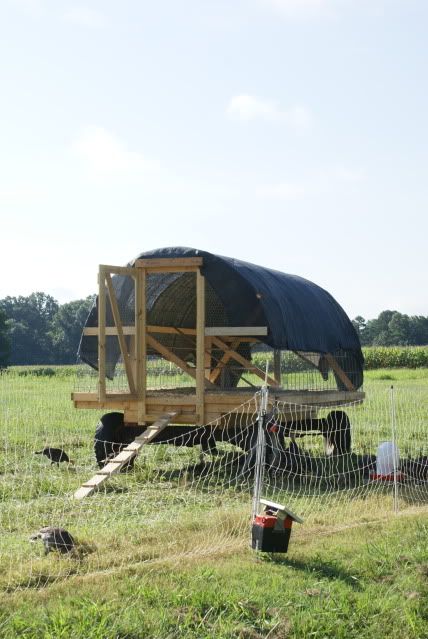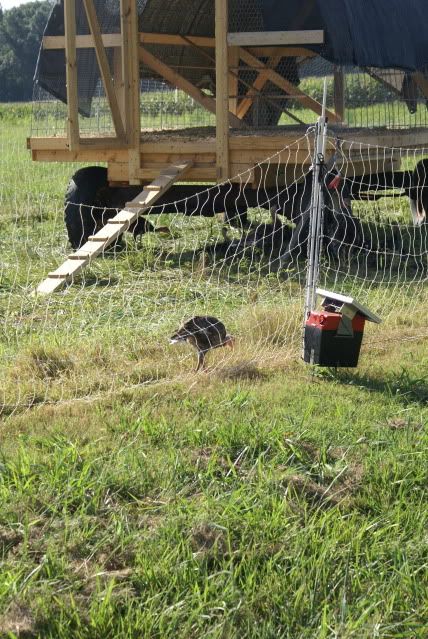 Rogue rooster!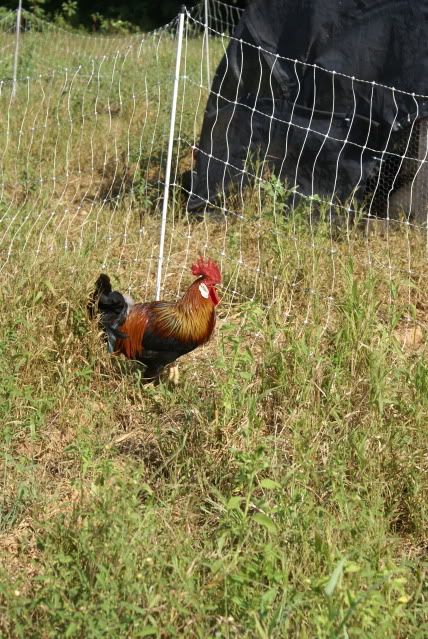 Broccoli waiting to go into the ground: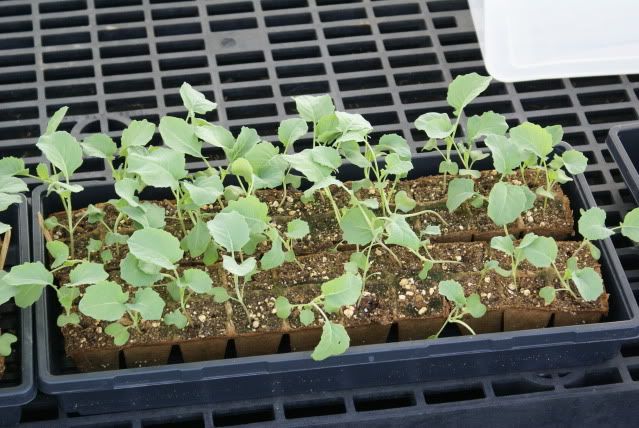 Lettuce waiting to go into the ground:
Beets! (oh yeah and drip irrigation) LOL
Beans!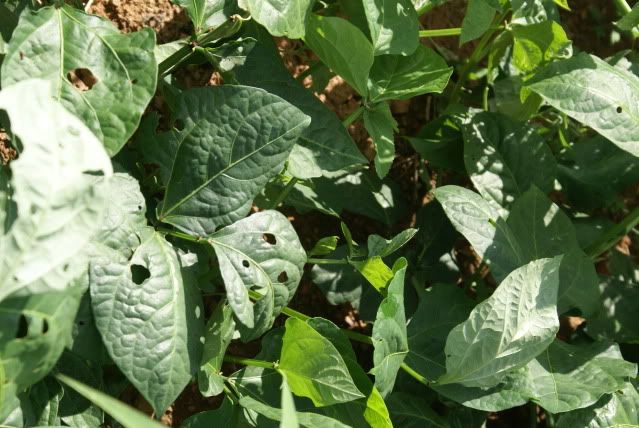 Pickin' beans: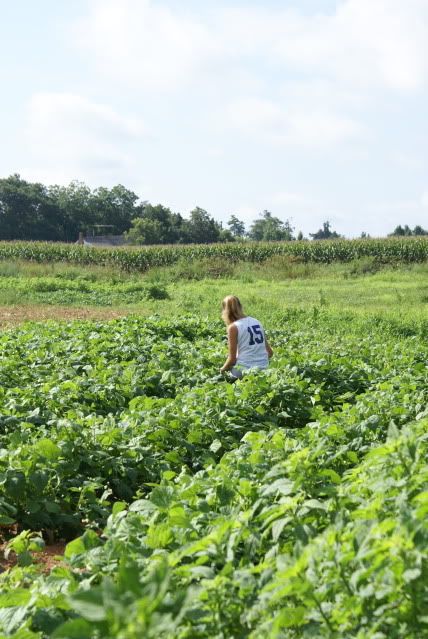 Okra blossom:
Young okra (phallic, huh?):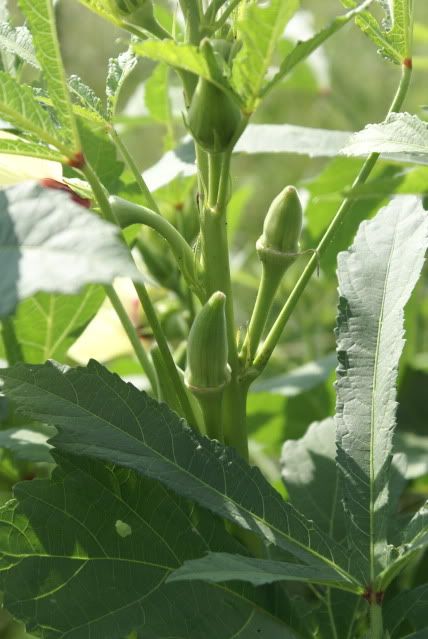 Freshly picked Haricots Verts: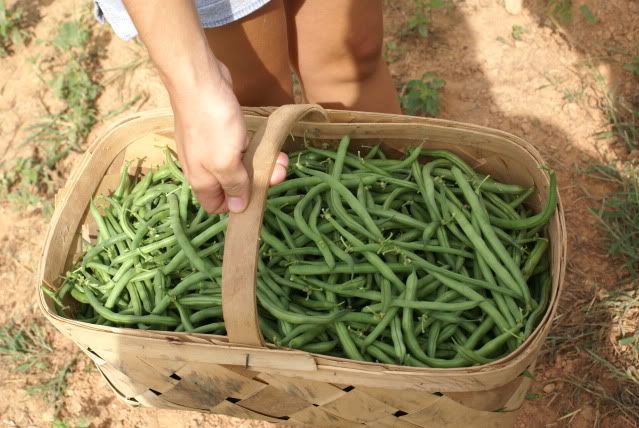 Horse in clover and rye: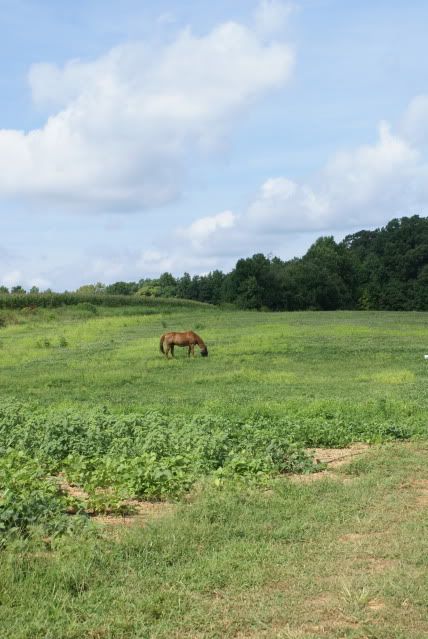 Farm playground: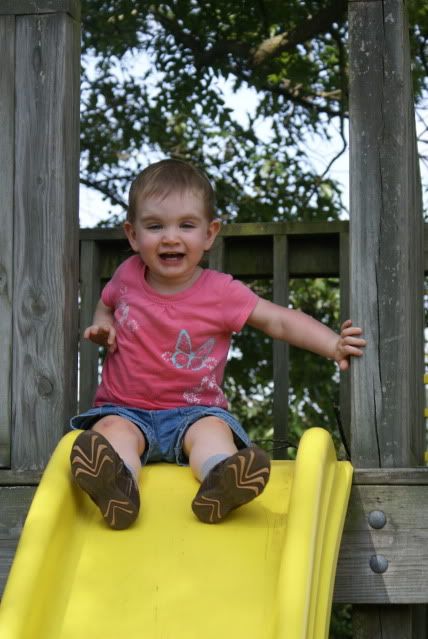 The property we ALMOST bought... ALMOST!!!!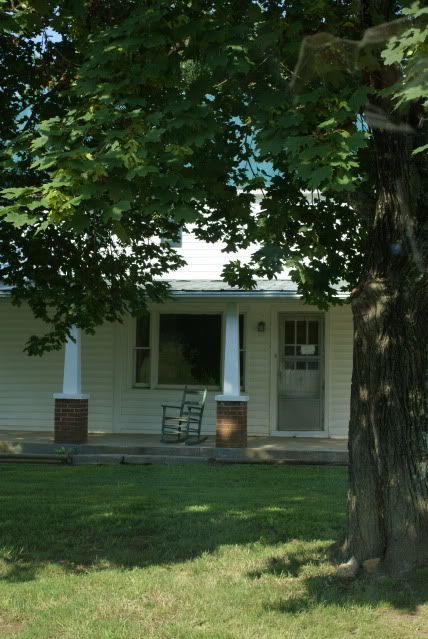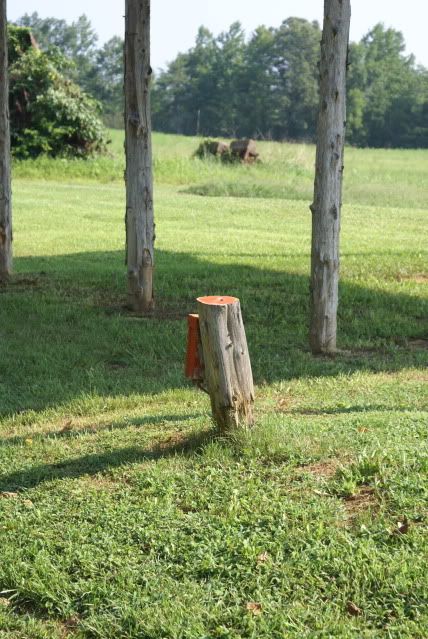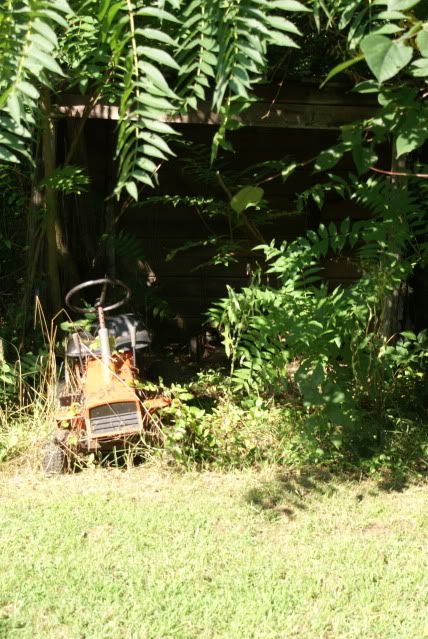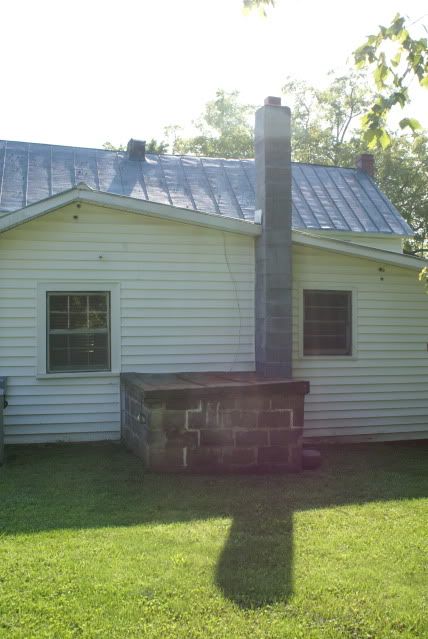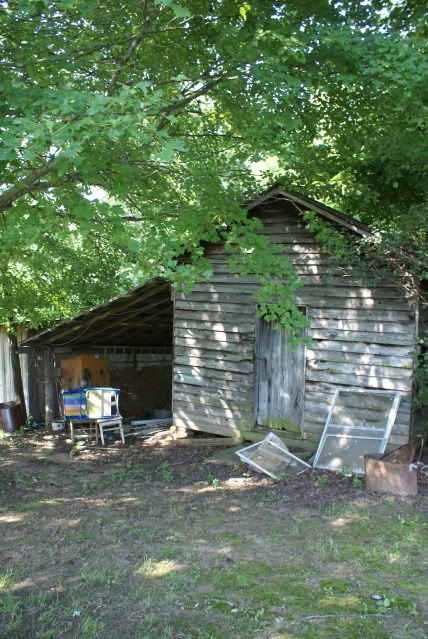 The property we DID buy!!!!!!!!.... DID BUY!!!!!
Kitchen: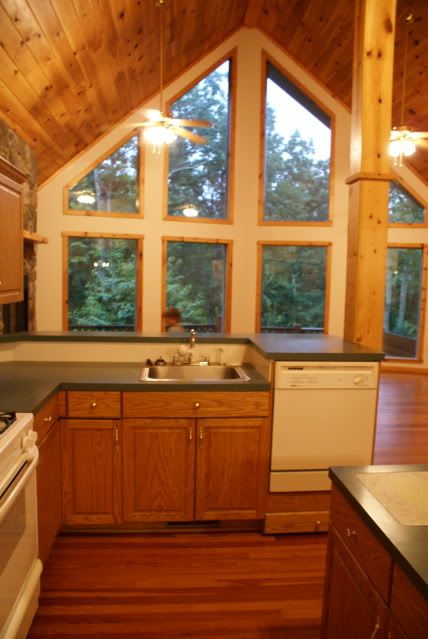 Kitchen hutch (*sigh* You know how bad I've wanted a hutch for my grandparents' wedding china?)and island:
Living room fireplace (the master bedroom fireplace is on the other side):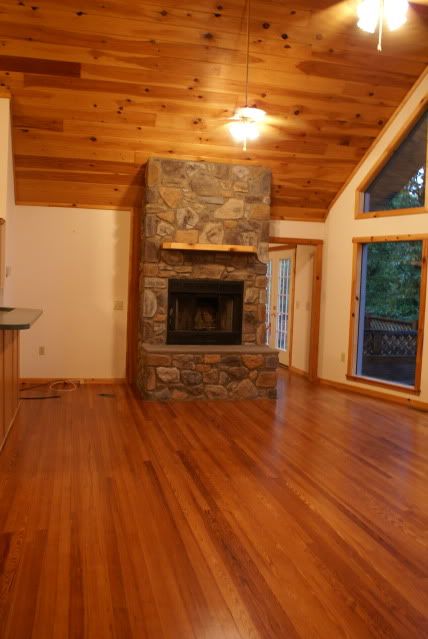 Living room windows: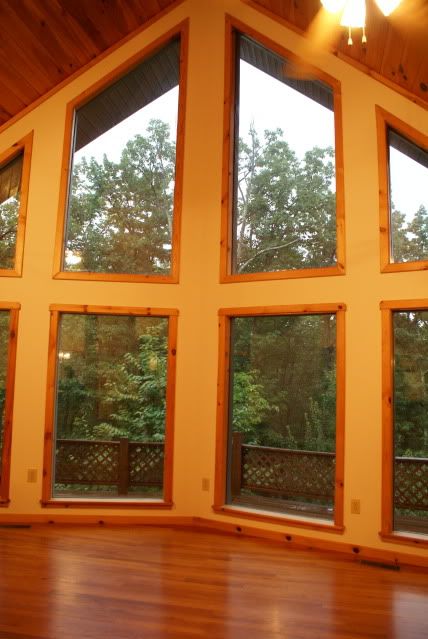 View of kitchen/living room from Ryan's doorway:
Ryan's closet and loft: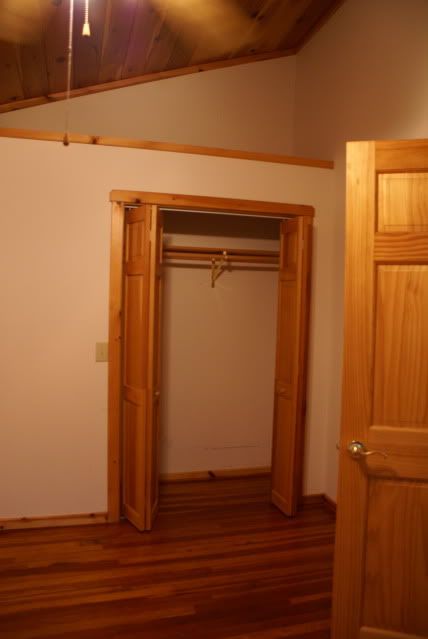 Ryan's side window:
Ryan's front windows:
The girls' room: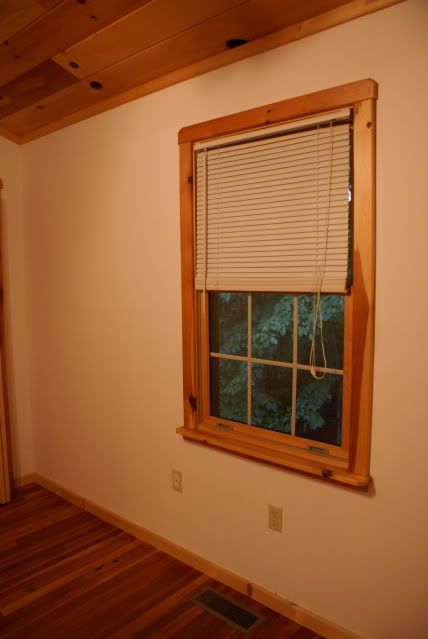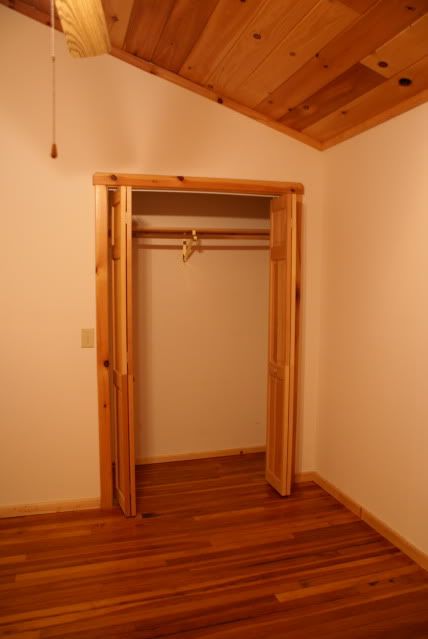 "Entry" bathroom:
Master bedroom:
Bedroom:
Fireplace: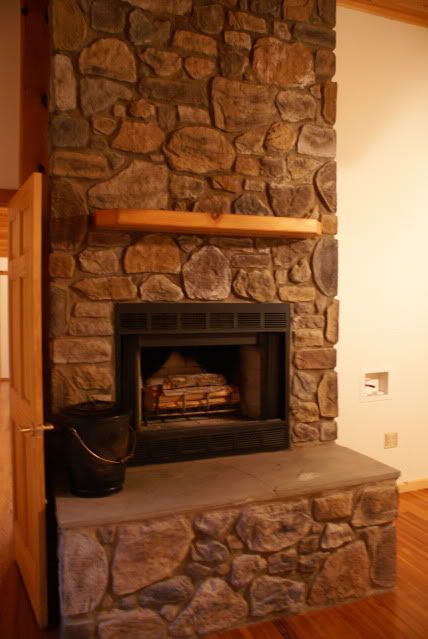 Walk-in with washer/dryer: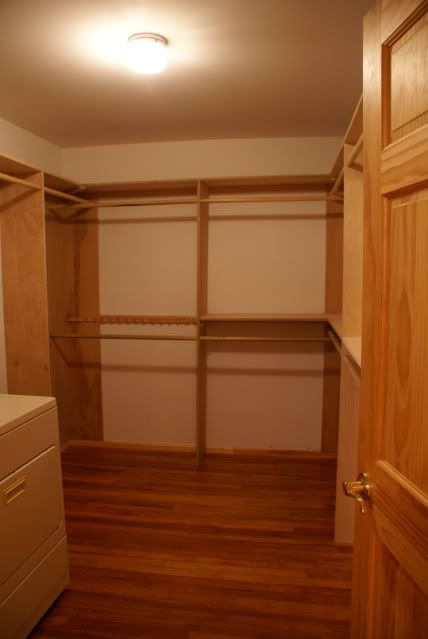 Master bath sinks (didn't take a pic of shower but we're going to replace it anyway):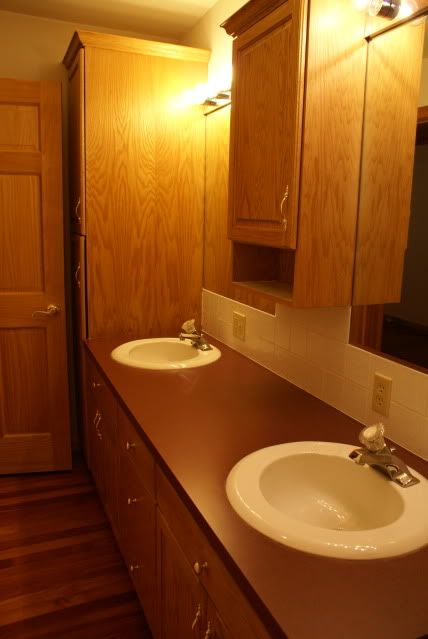 Master access to deck: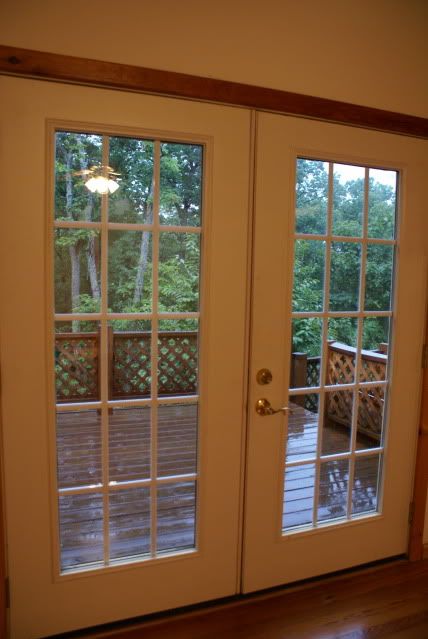 Basement... aka guest-quarters-to-be... It's already bathroom ready... just needs walls, flooring a drop ceiling and furniture... EASY!:
Without flash...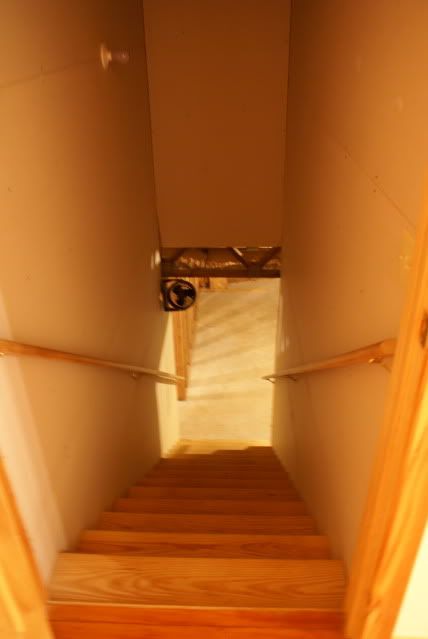 With flash...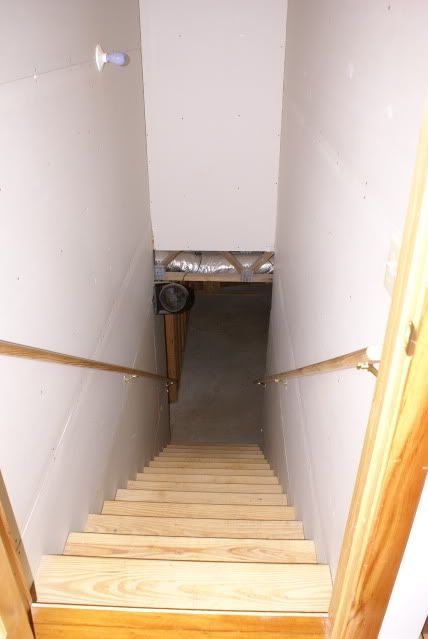 Without flash...
With flash...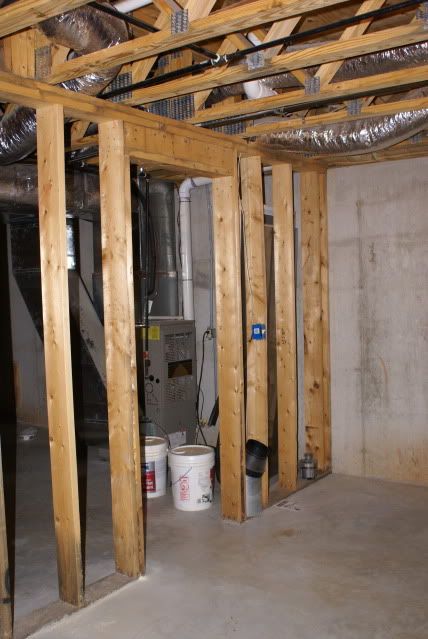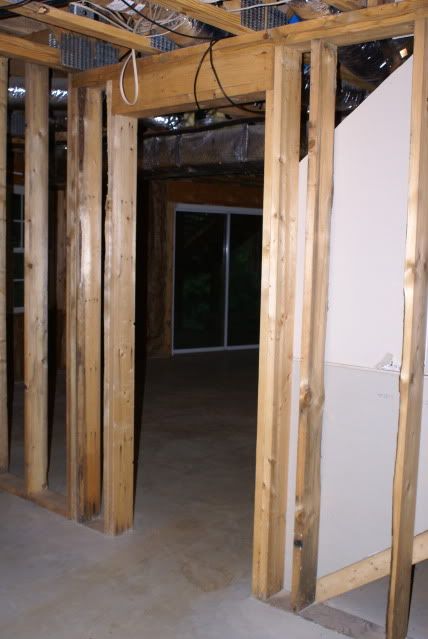 Outside:
"Front" side of the house (not the main entrance, but the "front" so to speak):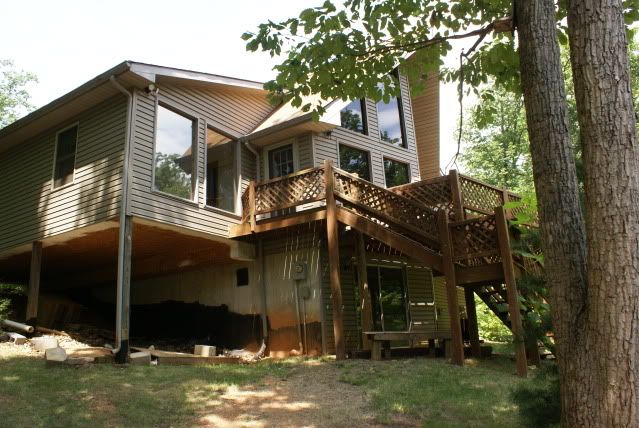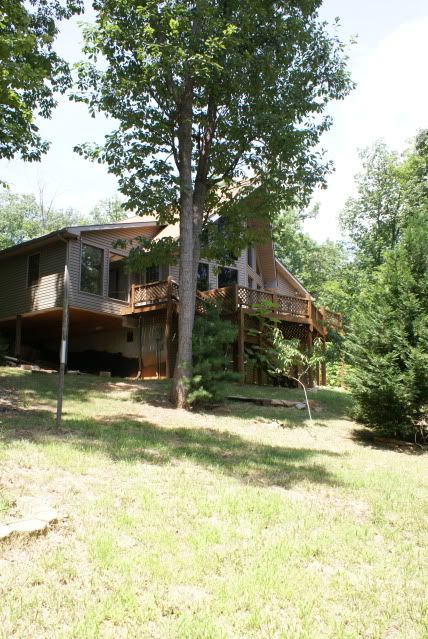 Deck in front of master bedroom:
Rest of deck (view FROM deck in front of master bed):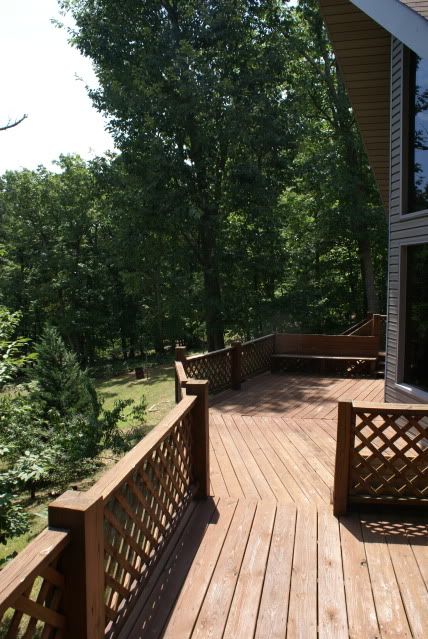 "Back" of the house (main entrance from drive way):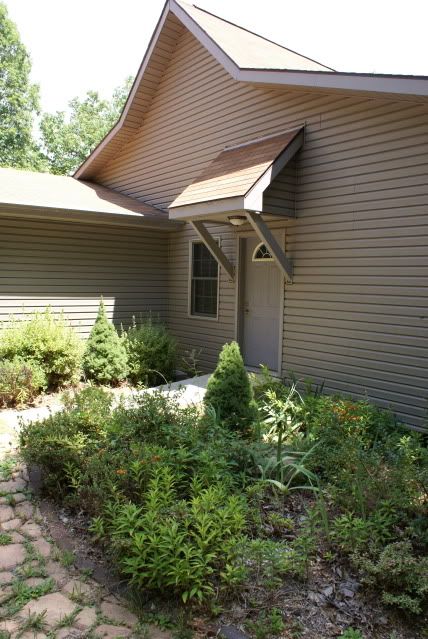 Two-car garage at "back" of house: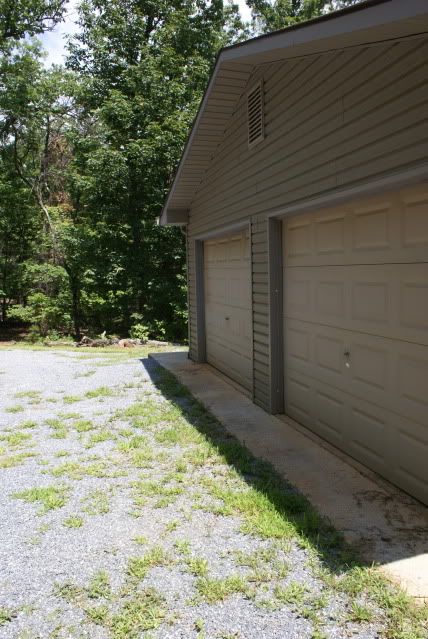 Side view leading to front yard: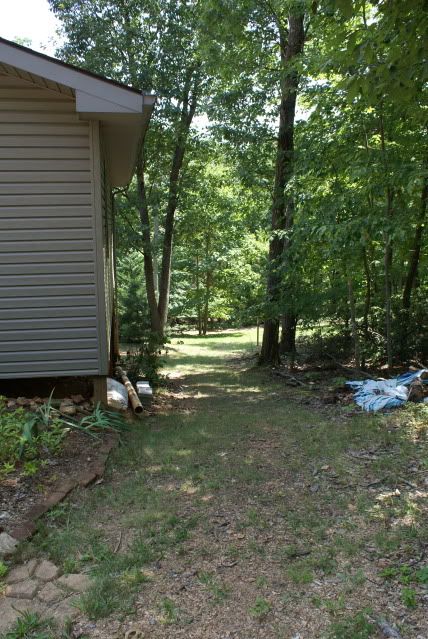 Other side: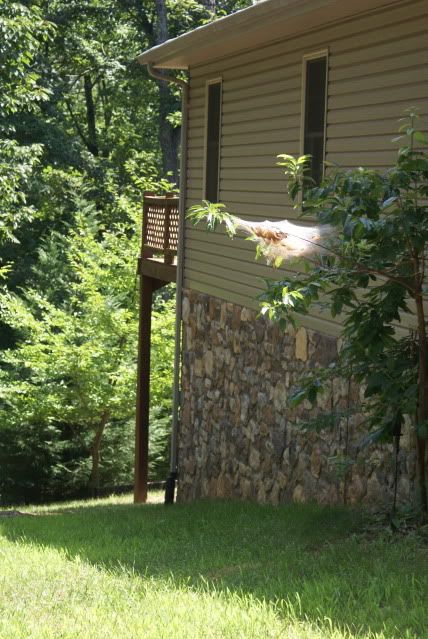 The yard:
Butterfly in the yard:
Fruit trees in front yard: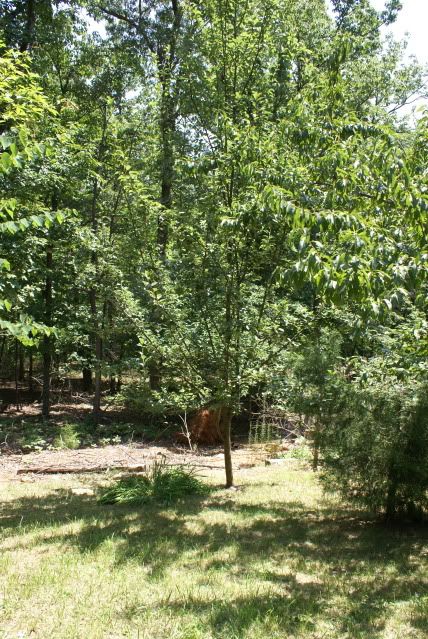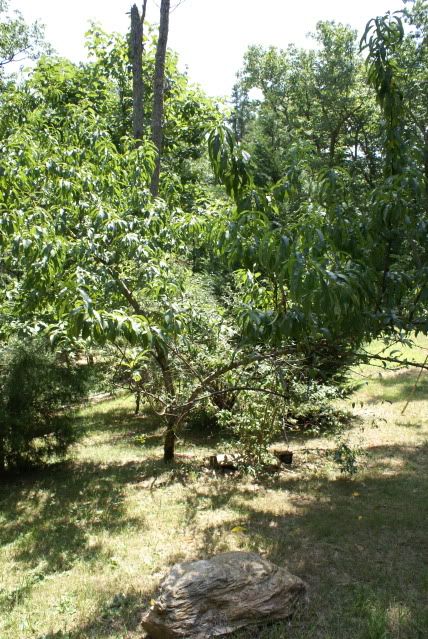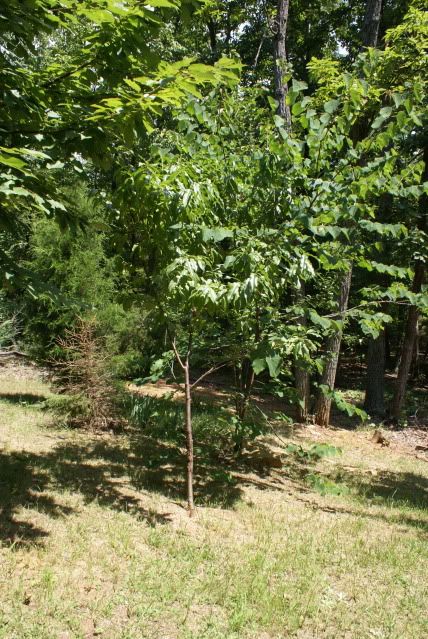 My woods:
Tree foliage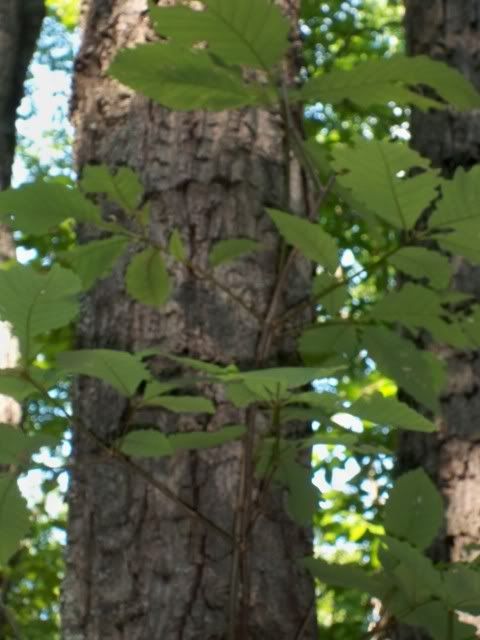 Floor foliage (this was everywhere...)
Mushrooms: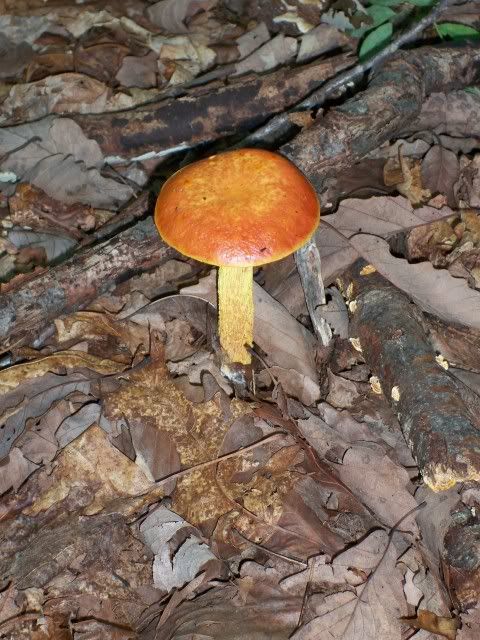 Quartz-y rock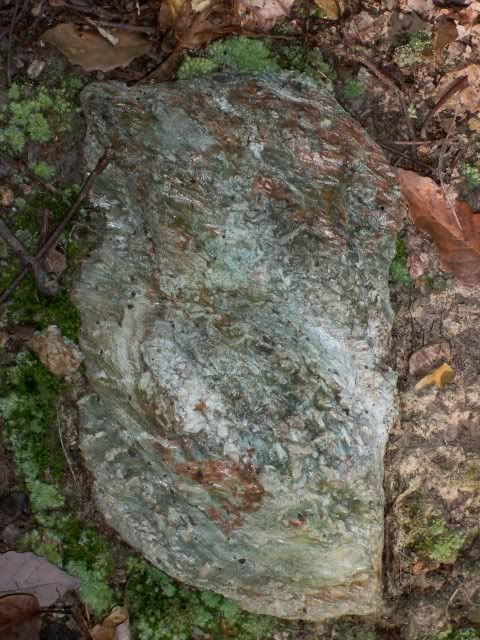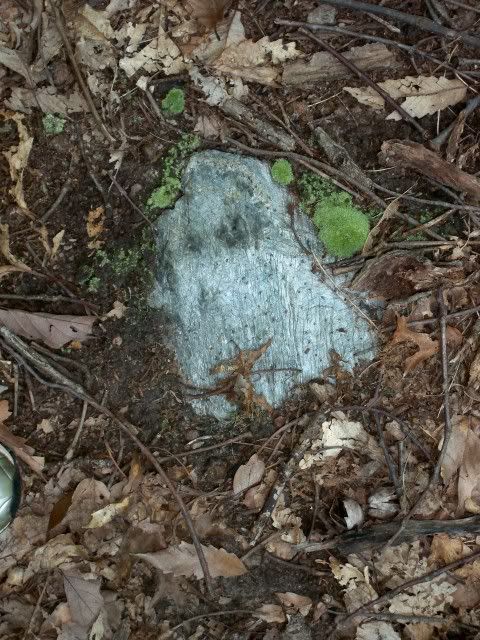 Moss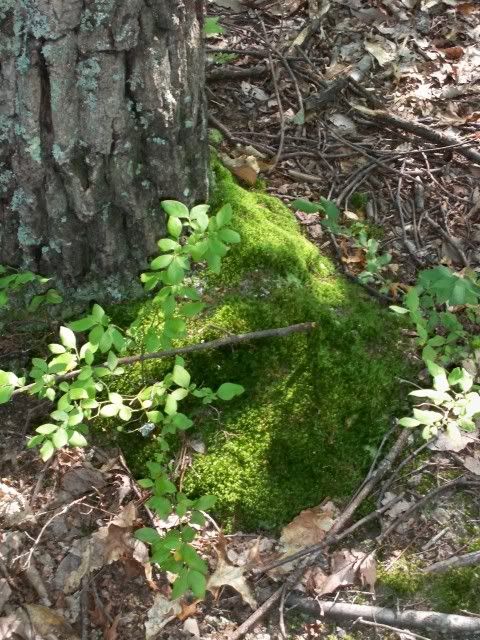 Hunting stand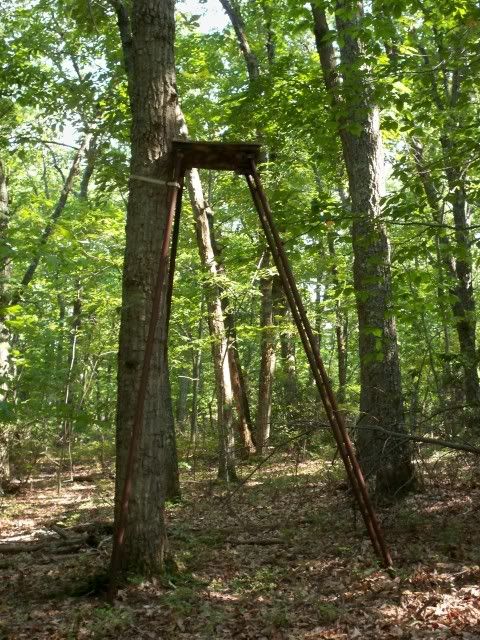 My driveway (well, the top of it... the driveway is a quarter mile long):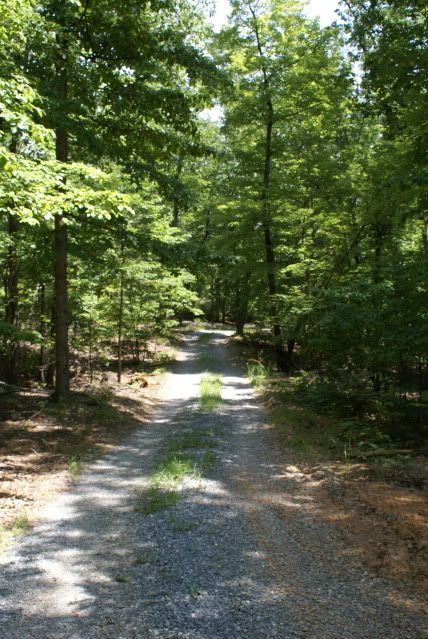 VACATIONING!!!!!!!
Taking a nap does NOT mean you have to surrender your strawberry newton!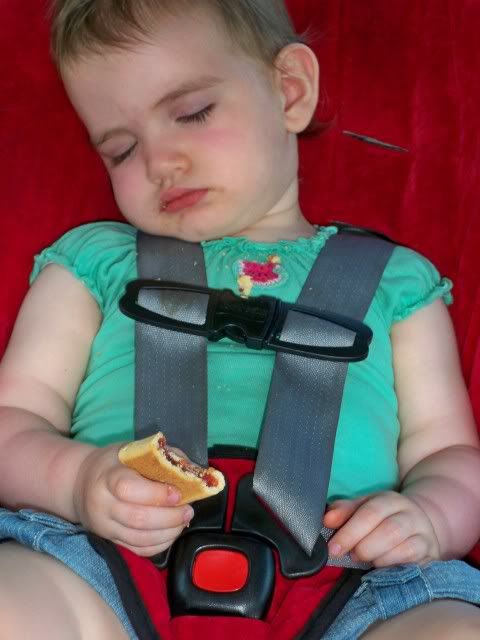 Playing: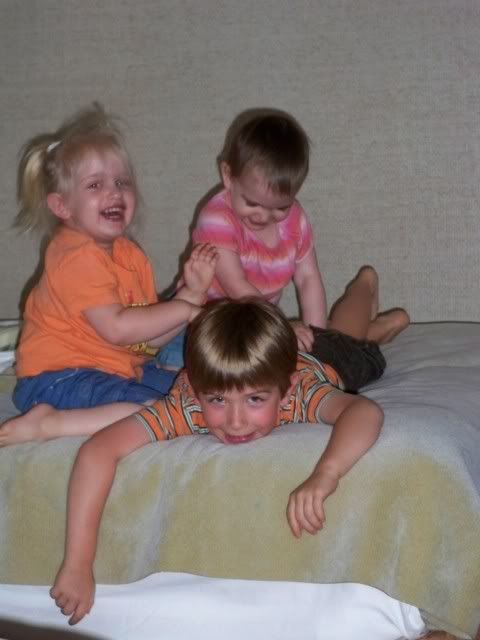 At least he didn't have to walk the plank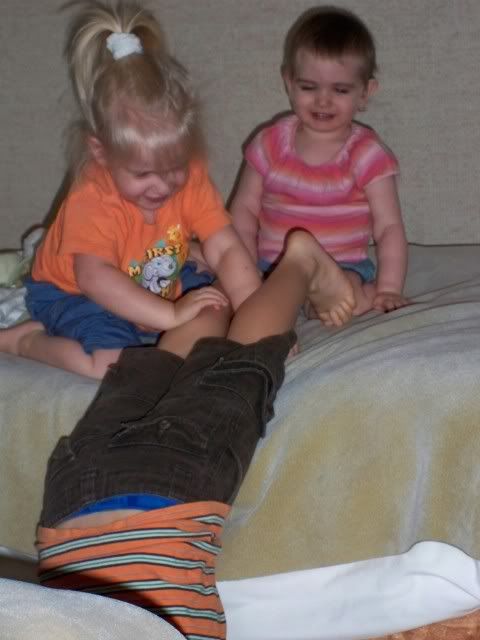 Wooden playground (in Lynchburg)!!!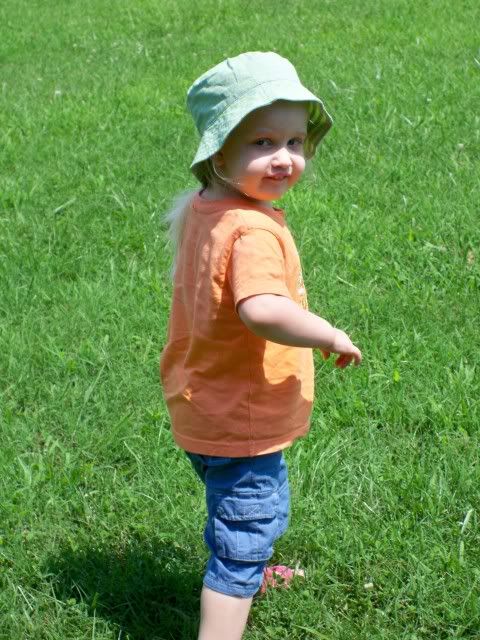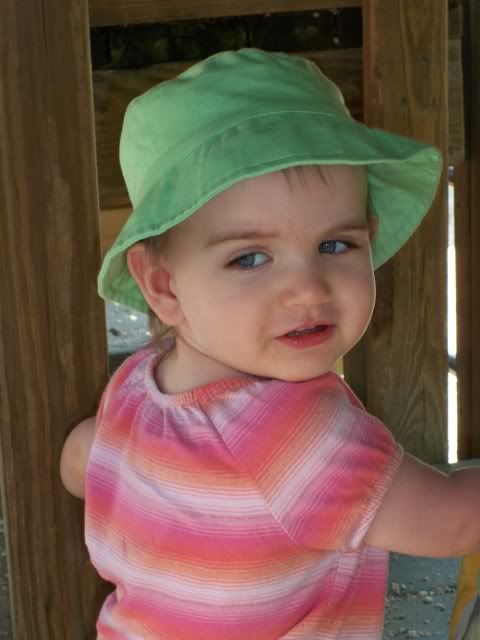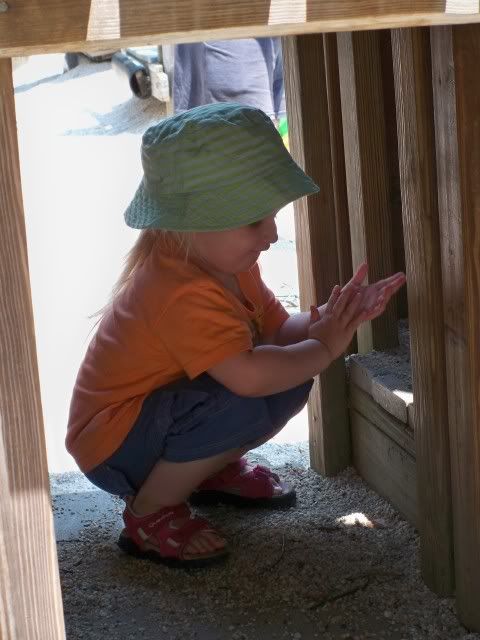 Pirate ship playground (in Lynchburg)!!! A BIG HIT!!!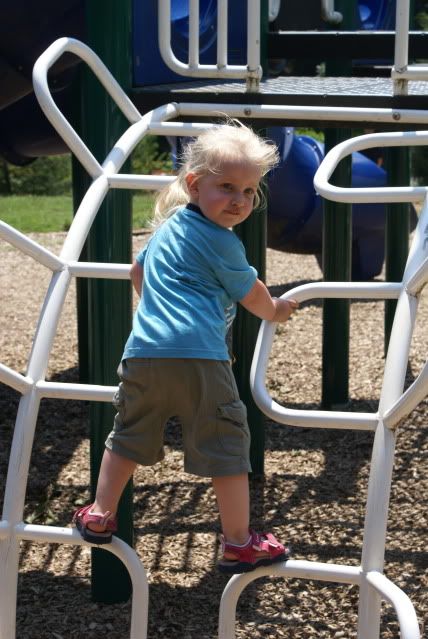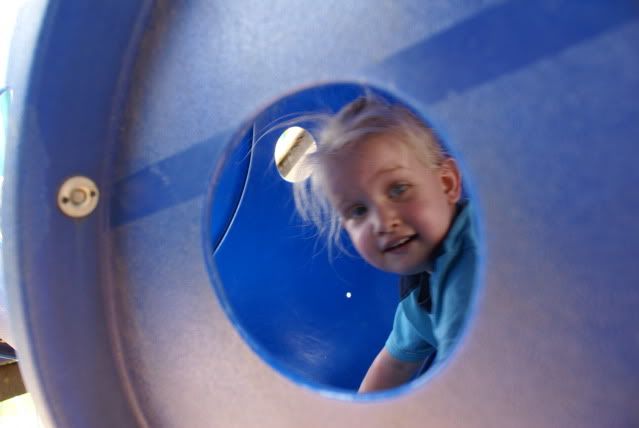 Lolo's favorite thing at any playground is the mulch-on-the-slide trick!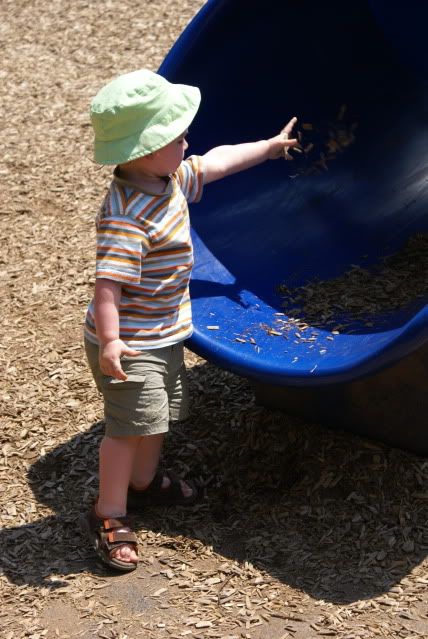 Pool time: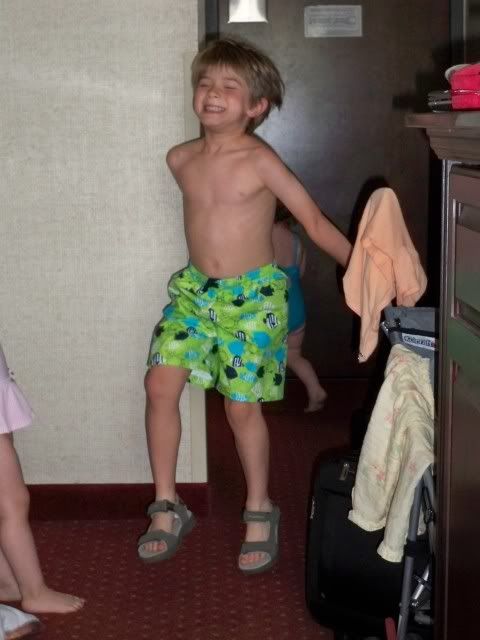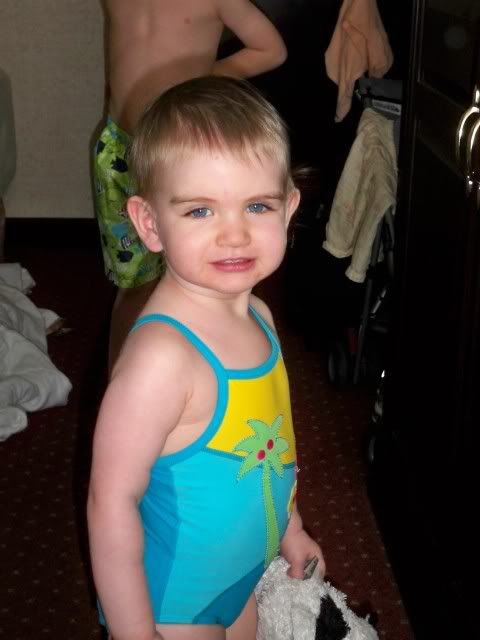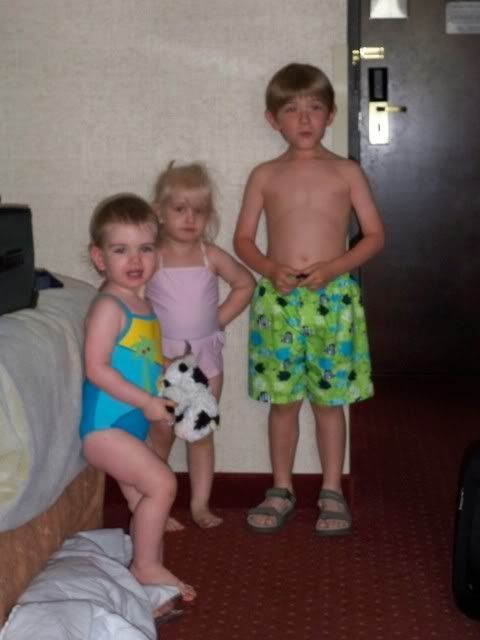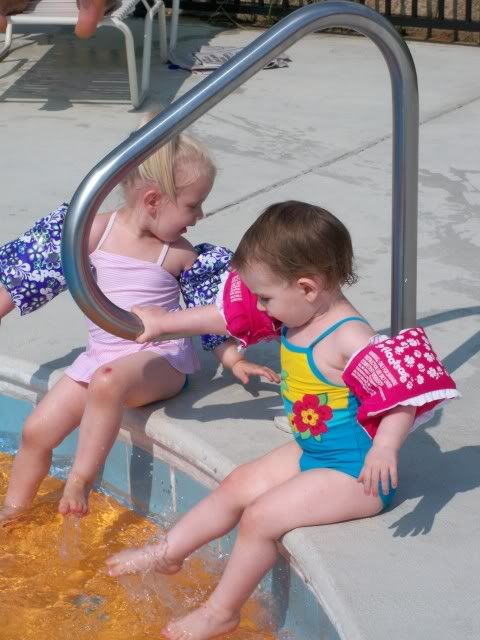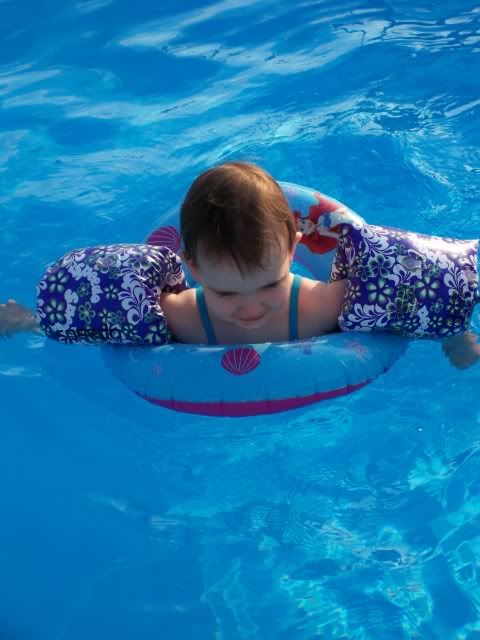 Lily playing her horn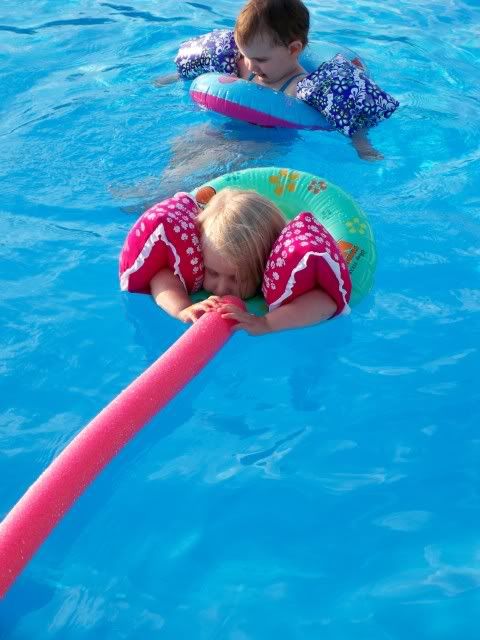 Lolo gets all philosophical... She looks like Ghandi, eh?
Lolo playing with a nipping puppy at the YMCA playground (his name was Motley):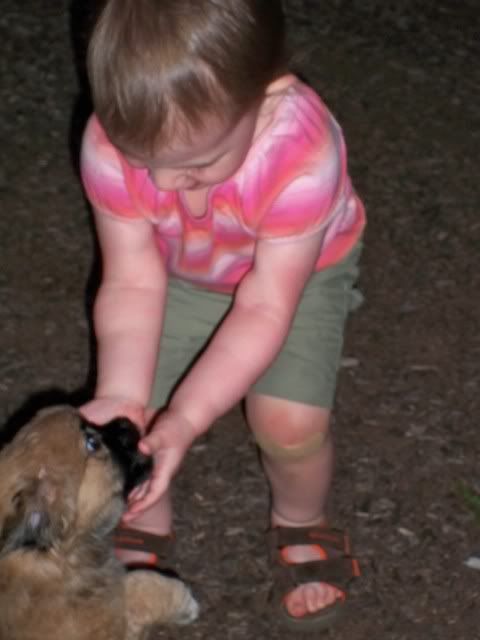 FINALLY A SALAD!!!!
Tomato picnic on the floor:
Northlake Mall:
Indoor playground: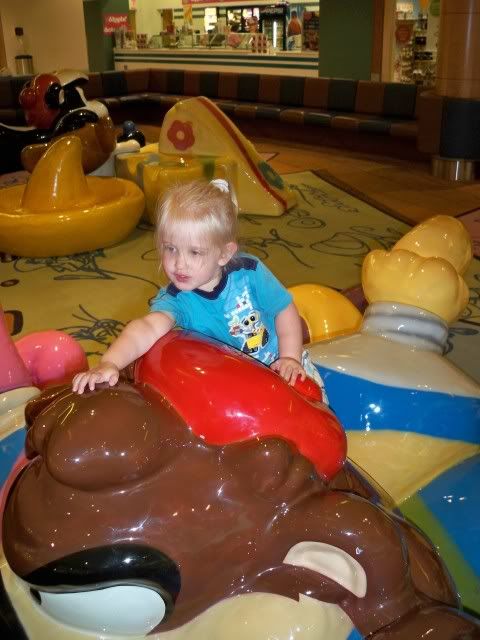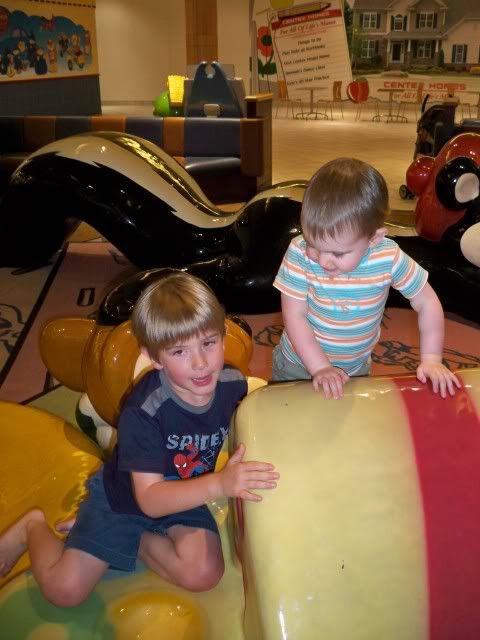 Toothpaste blob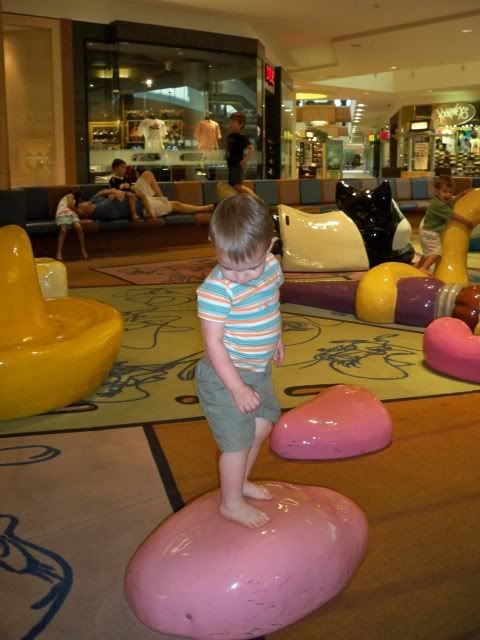 Walking through the mall: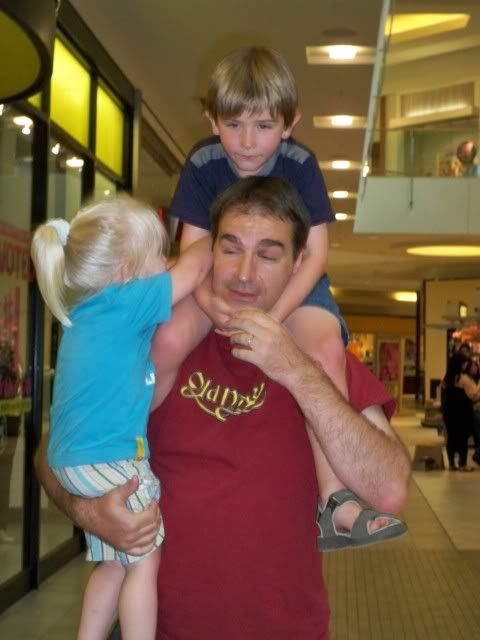 Spraygrounds:
Teasing the fountain! You can't catch meeee!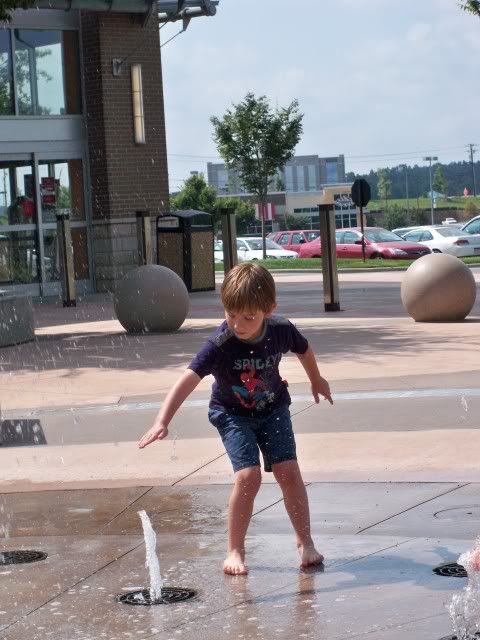 Gettin' serious about it!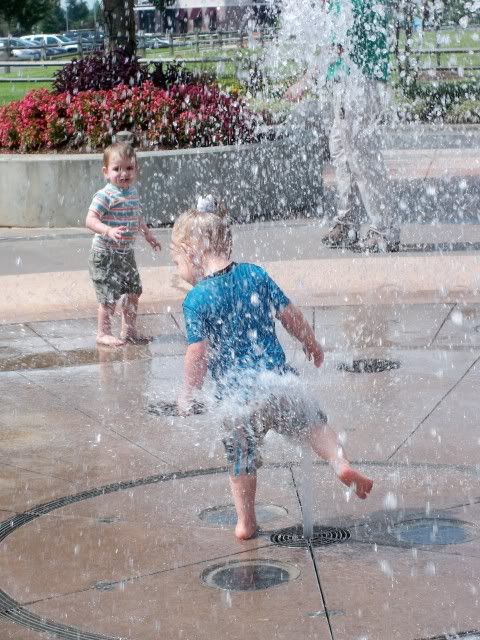 Wet now!!!
This is about as wet as Lolo got. Wasn't a big fan! Mostly just ran around the fountain screaming at the other two! LOL!
Lolo's had enough. Let's go!
Dinner at Ju's:
Lily LOVED the trampoline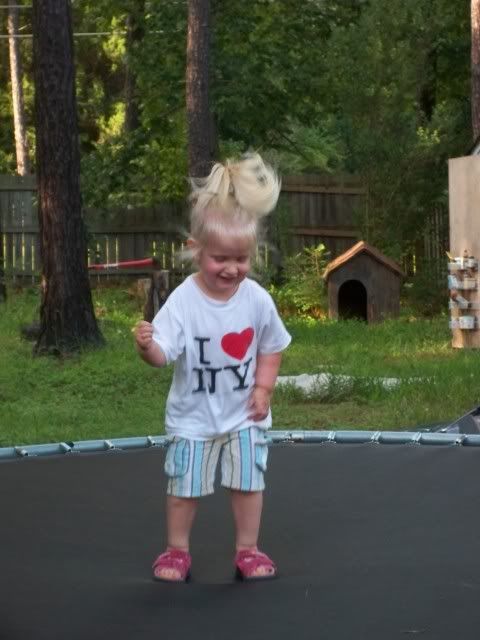 Lolo... eh, not so much!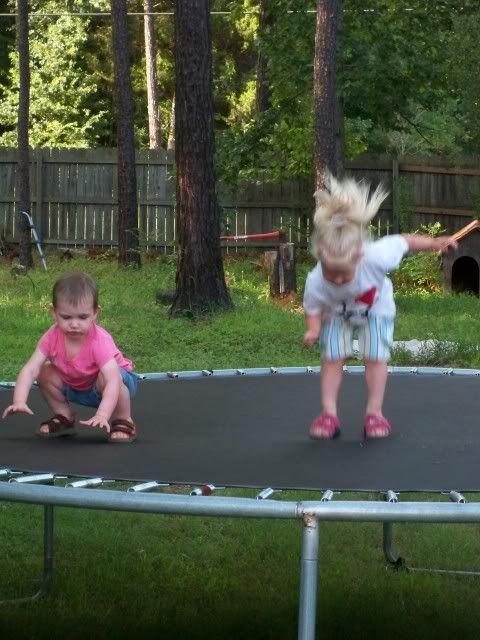 Like a car commercial *eye roll*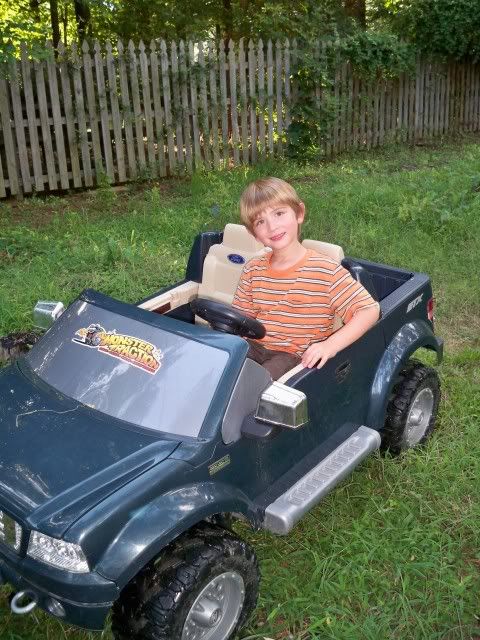 Star Wars meets Fast and Furious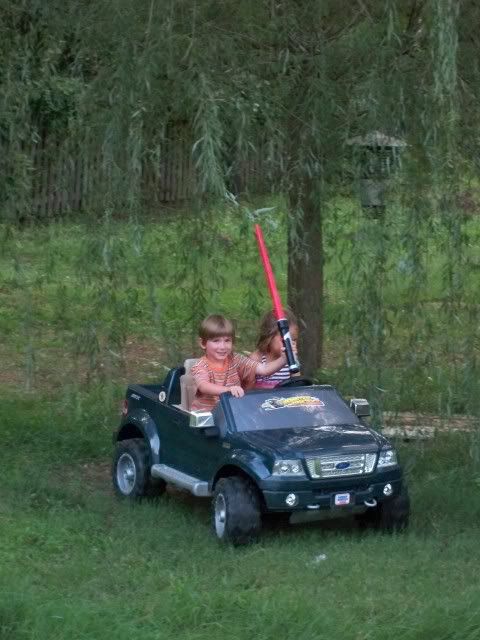 Ryan the navigator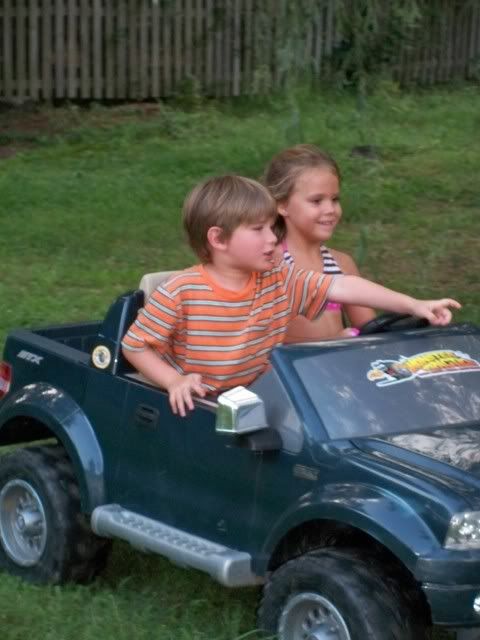 Cooling off!
Flying home:
Tired before we even leave
And here's why (and this is just the checked baggage):
Killing time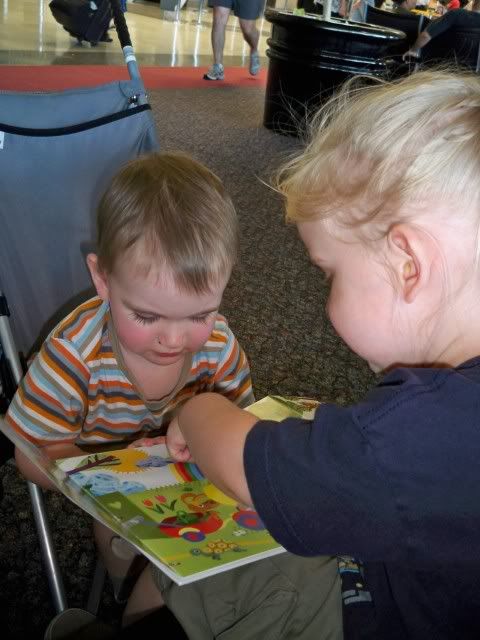 Lemme see!
Cool!
Old hat at this
Waiting on the tarmac: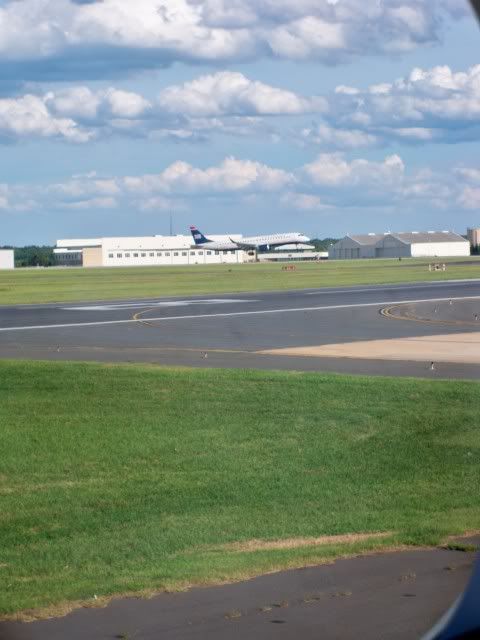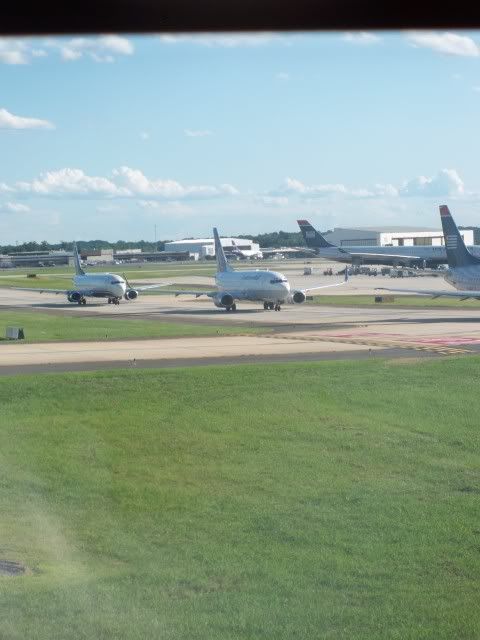 Up...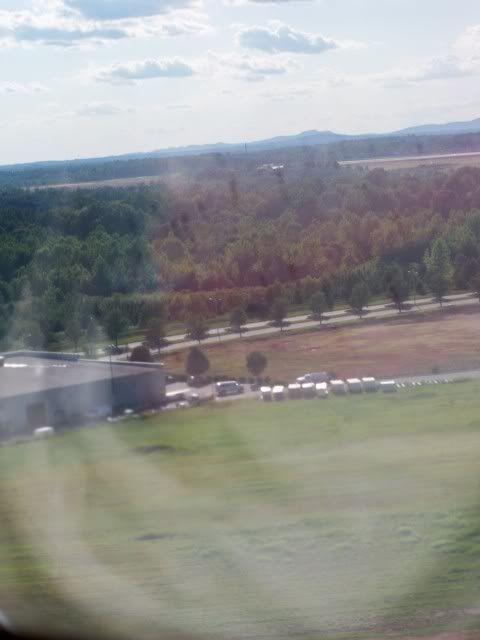 UP...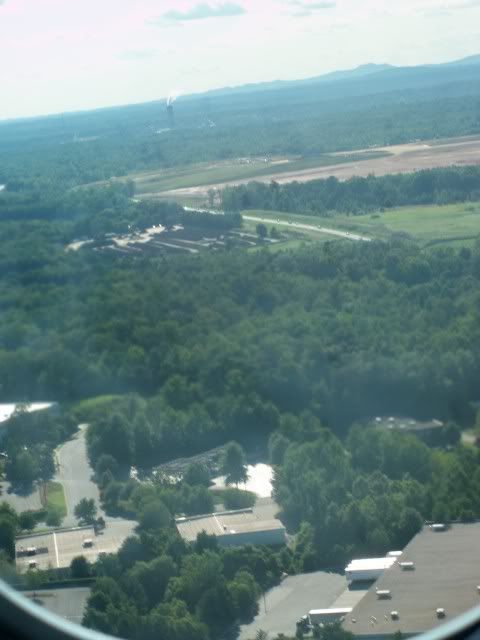 UP!
And... AWAY!!!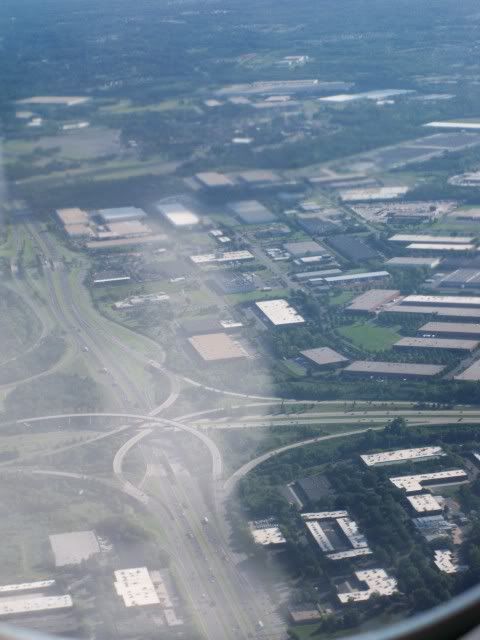 Arrival in Lyon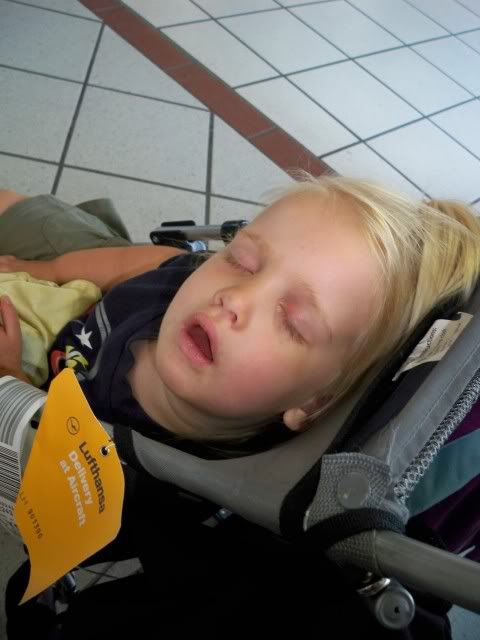 Conked out on the couch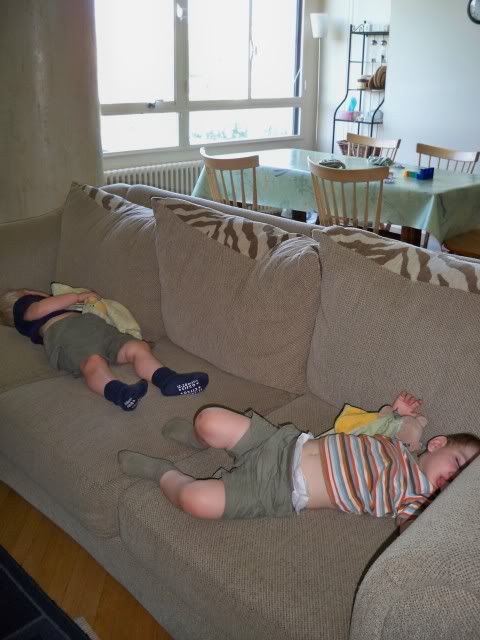 Giant inflatable airplane that we waited until we got home to inflate!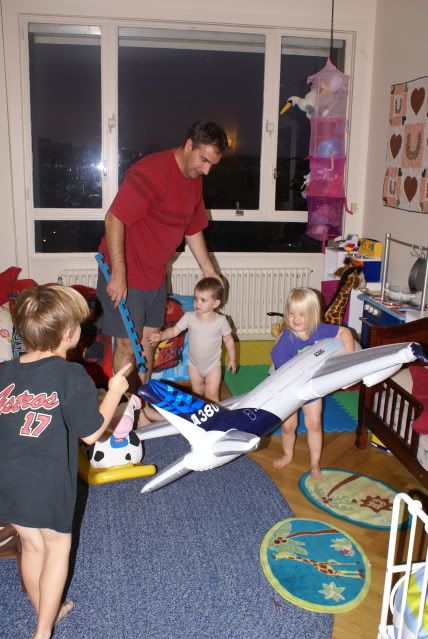 OKAY... This post has taken me TWO DAYS to write and prepare for viewing which I guess is pretty logical since I only post once a week and I was gone two weeks. Right?
That said, I might not post for a good couple of days... Unless.... Unless I hear something from the AMD/JMC... we shall see!!!